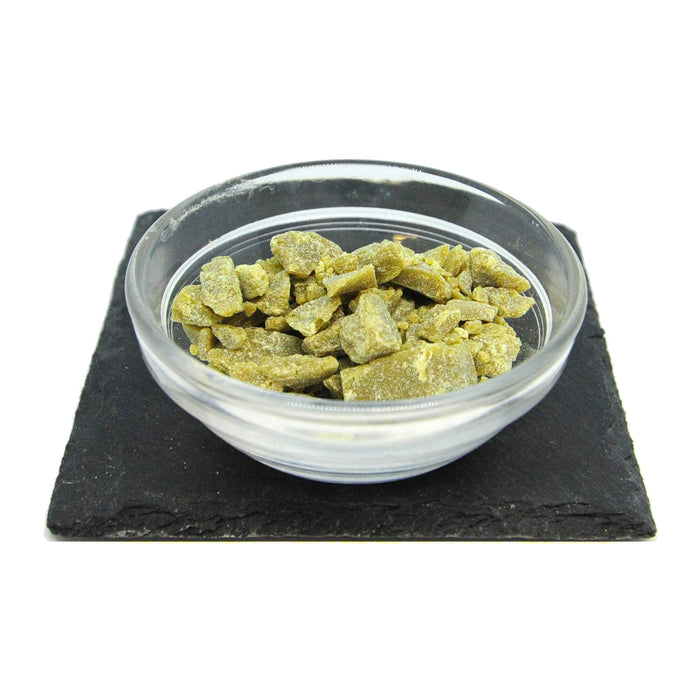 CAS#: 1173925-95-5
Laurel Wax is a plant wax obtained from the fruit of the Myrica Pubescens (laurel) shrub by water extraction and is greenish-white in color. Harvested in Columbia, it is refined in the USA.  It is a hard wax with a low melting range and a high saponification value, and has the feel of soap when handled.
It is useful in the development of natural cosmetics and personal care products.  In skin care applications, Laurel Wax contributes to a glossy, rich, creamy feel and is considered quite stable.
Properties
Plant derived
Water extracted
Suitable for Natural Cosmetics
"Solid" oil which brings emolliency without greasiness
Brings creaminess with a rich skin feel to formulas - particularly to  sticks
Increased o/w emulsions' viscosity without additional drag
Softens stick payoff without changing the stability of the formulation at higher temperatures
Excellent skin feel adjuster
Can be used as a beeswax substitute for Vegan or Animal ingredient free formulas
Gluten-free
Applications
Lip balms
Lipstick
Lotion bars
Hair pomade
Ointments and salves
Mascaras
Creams and lotions
Compatibility
Laurel Wax is compatible with most vegetable and mineral waxes, as well as vegetable oils, mineral oils and petrolatums.
INCI:
  Myrica Pubescens (Laurel) Fruit Wax
California Prop 65 Statement: The following statement is made in order to comply with the California Safe Drinking Water and Toxic Enforcement Act of 1986. This product is not known to the State of California to cause cancer, birth defects or other reproductive harm.
Typical Use Rates:  1 - 4%, safe up to 100%
Appearance: Green solid at room temperature
Odor: Neutral to wax-like
Melting Point: 35°- 45°C (95° - 113°F)
Shelf Life: Retest 3 years from date of manufacture
Country of Origin:  USA (harvested Columbia, refined USA)