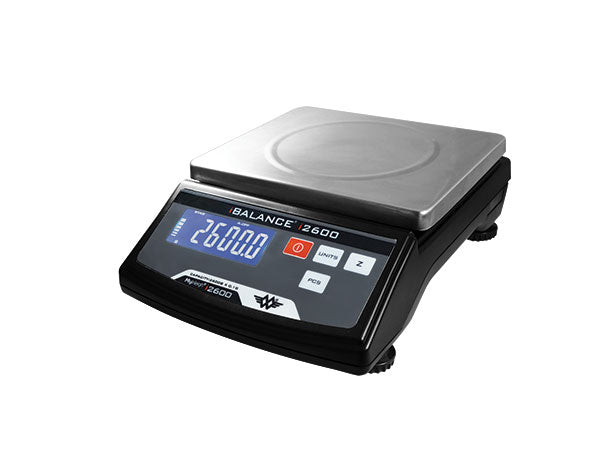 For weights to 4.7 pounds.
Need a scale that will weigh up to 91 ounces (that's 4.7 lbs) with 0.005oz. accuracy? Then this scale's for you. The iBalance i2600 digital bench scale weighs up to 2600 grams (91.7oz) with an accuracy of 0.1 gram (0.005 ounce)! Optional auto off time means it won't go off if you don't want it to. AC Adapter is included. This is a scale that rarely needs calibration, but if it does, you can find calibration weights HERE.
Reads 2600 x 0.1 gram (91.7 oz. x 0.005 oz.)
Reads in 8 Standard Modes
Including Grams, Ounces, Pounds, Carats, Grains, Pennyweight, and Troy Ounces and Parts counting
Large 5.7" x 6.6" stainless steel weighing platform
Scale Size: 7.5" x 5.8" x 1.7"
Large back lit LCD display
Adjustable rubber feet for leveling
Level bubble on back of scale
Optional auto off
Adjustable auto-zero tracking
Digital Auto calibration
Tare Function (up to 2600g/91.7 oz.)
Calibration Digital Auto with external 2Kg mass
Uses 6 AA batteries (not included) or included AC adapter
Lifetime/30 year Worldwide Warranty

MSRP: $249.95
MyWeigh recommends scales that have traveled a good distance should be recalibrated before use. We strongly recommend the purchase of the appropriate calibration weight with your scale.