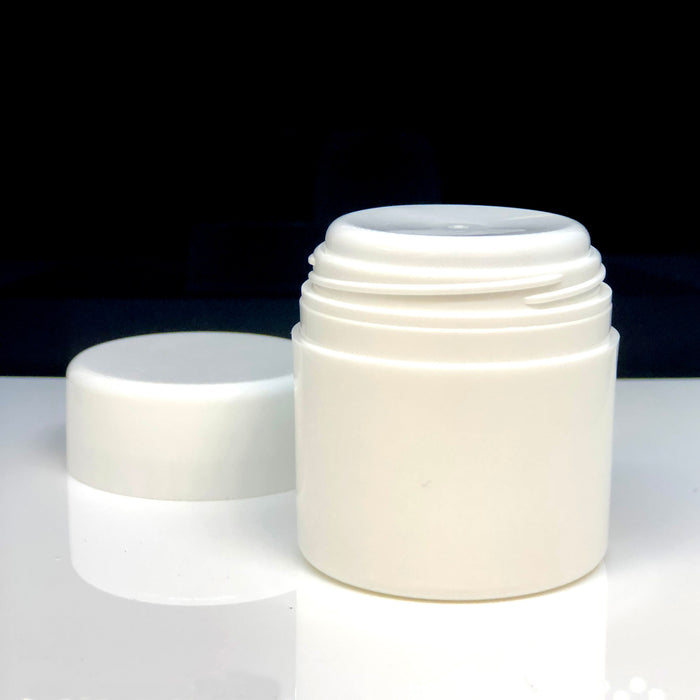 Airless Jar, Polypropylene, 30ml
Here's another great Airless Jar to protect your air-sensitive creations! This 30ml (one ounce) jar is a very economical airless jar for your thicker creams, lotions or serums that you want to dispense in a jar format. This dispensing cap snaps into place so it's meant for single use applications. To dispense, cap is removed and the top of the jar dispenser is pressed down to dispense contents from the center.
Filling Instructions:
Fill with 30ml or 1 ounce of product, filling no higher that the serrated inner edge of the container. Place dispenser cap on top of jar and press firmly until it snaps into place in the jar.
These are meant to be permanent caps and will be difficult to remove!
If need be, you can generally pry the cap off using a plumbers wrench and a cloth to protect the sides of the jar from getting scratched.
Color: White
Recycling Code: 5 - Polypropylene
Specifications:
30ml jar = Capacity 30ml (about 1 ounce)
Height = 56.5mm (4 1/8")
Diameter = 50mm (1.97")
Label Area = 32mm x 157mm (1.25" x 6.18")