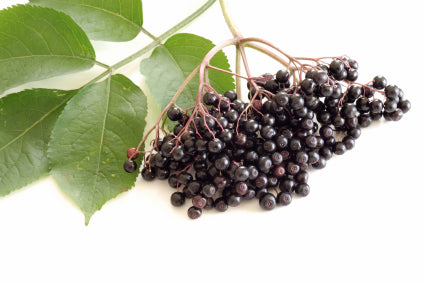 CAS No. 84603-58-7
PhytoCide Elderberry OS is an antimicrobial product developed by Active Micro Technologies. It is an efficacious, multi-functional natural alternative to the traditionally used preservatives in cosmetics and personal care applications.  It is oil-soluble, and therefore, can be used in a variety  of anhydrous and oil-containing applications. 
Elderberries are rich in a variety of phytonutrients that exhibit both antioxidant and anti-inflammatory properties, such as caffeic acid, chlorogenic acid, ferulic acid, and quercetin. The fruit also contains anthocyanins, which have been shown to help boost the immune system. Antioxidants, like those found in elderberries, are excellent additions to skin care regimens as they provide protection from free radicals that contribute to cell damage, aging, and wrinkle formation. Bioflavoinoids, which can also be found in elderberries, exhibit astringent properties that help tighten the skin and provide additional anti-wrinkle benefits. This unique superfruit is also an excellent source of undecylenic acid, an organic fatty acid that provides broad antimicrobial benefits, but is especially effective against fungal microorganisms.
Phytocide Elderberry OS is ECOCert/COSMOS approved and Whole Foods compliant.
Suggested Applications
Skin Conditioning
Antimicrobial for anhydrous products (lip balms, lip sticks, scrubs)
Antimicrobial for oil-containing cosmetic formulations
Phytocide Elderberry OS is GMO Free and no ethoxylation, irradiation, sulphonation, hydrogenation, or ethylene oxide is used in processing.  There are no solvents used in its extraction and it contains no added preservatives or antioxidants.
Key Benefits
Oil soluble
Naturally derived botanical extract
Heat stable to 75°C (167°F)
REACH Status - fully compliant
Compatible with a wide range of cosmetic ingredients
Delivers anti-aging skin conditioning benefits
Natural antimicrobial efficacy for cosmetic formulations
Can be used with other antimicrobials for broad spectrum activity
Please refer to the Fact Sheet (MSDS/Tech Data Tab) to download the Technical Data Sheet for more information on Minimum Inhibitory Concentration (MIC) and Double Challenge Tests performed using PhytoCide Elderberry as a preservative.
INCI: Sambucus Nigra Fruit Extract
California Prop 65 Statement: The following statement is made in order to comply with the California Safe Drinking Water and Toxic Enforcement Act of 1986. This product is not known to the State of California to cause cancer, birth defects or other reproductive harm.
PhytoCide Elderberry OS is oil soluble and may therefore be added to anhydrous systems, as well as the oil phase of emulsions. When using PhytoCide Elderberry OS it is recommended to maintain the formulation pH between 3 and 8 in water containing formulations. We also suggest incorporating the product at temperatures of 75°C (167°F) or below.

Recommended Use Levels: 1.0 - 5.0%
Appearance: Clear to slightly hazy, light to medium amber liquid
Solubility: Insoluble in water, soluble in oils
Country of Origin: USA
Shelf Life: 1 year from date of  manufacture
Try Out These Formulations Using This Ingredient: