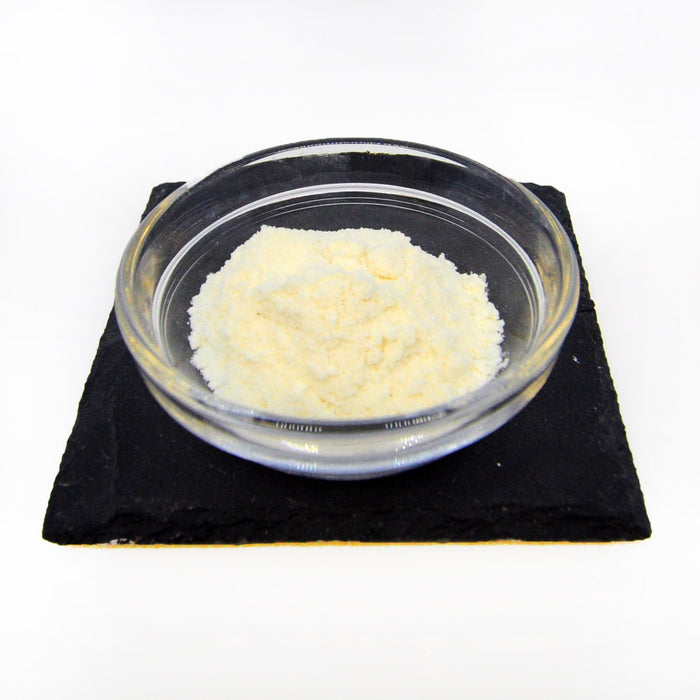 CAS No. 1135-24-6
Ferulic acid (FA) is found in the leaves and seeds of most plants, and in especially high concentration in the brans of grasses such as rice, wheat and oats.  It has strong antioxidant properties that make it especially useful in the formulation of anti-aging cosmetics.
Chemically reactive molecules known as free radicals are produced as byproducts of normal biochemical processes.  Once produced, they are capable of damaging almost any biological structure they contact.  Our cells are prone to free radical damage. In skin, this damage can be perceived as aging. 
Ferulic acid is excellent at neutralizing free radicals, especially the free radicals known as "superoxide", "hydroxyl radical" and "nitric oxide".  It also acts synergistically with other antioxidants to increase their efficacy.  Interestingly, Ferulic Acid's antioxidant activity is boosted by exposure to UV light, indicating it may be helpful in protecting skin fro sun damage.
Our ferulic acid is a natural product extracted from rice bran oil.
This is a cosmetic raw material and is meant for external use only in cosmetic formulations.  As with all of our materials, it should not be taken internally.
INCI: Ferulic Acid
California Prop 65 Statement: The following statement is made in order to comply with the California Safe Drinking Water and Toxic Enforcement Act of 1986. This product is not known to the State of California to cause cancer, birth defects or other reproductive harm. 
Suggested Use Rate: 0.5 - 1%
Appearance: White or light brownish yellow crystalline powder with a mild pleasant odor
Source: Extraction and purification from rice bran oil
Solubility: Soluble in Propylene Glycol, Ethoxydiglycol (EDG), Dimethyl Isosorbide (DMI), ethanol,  dispersible in hot water (produces a milky yellow, rather than clear solution)


Try out these formulations using this ingredient: