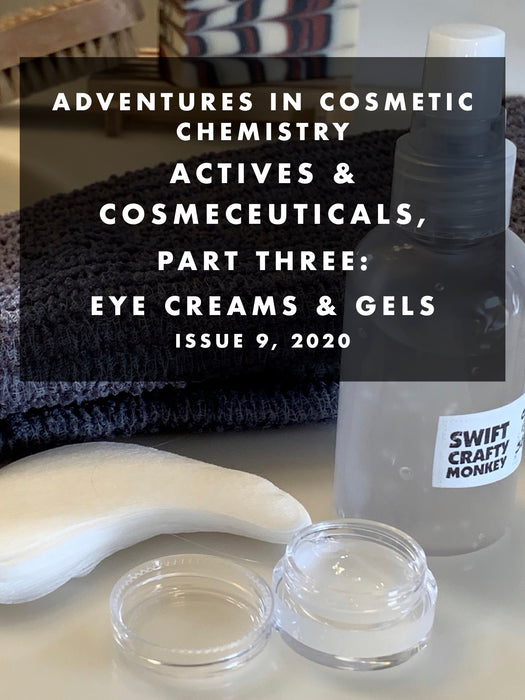 Actives & Cosmeceuticals, Part 3 - Eye Creams & Gels
e-Zine  - Digital Download
Adventures in Cosmetic Chemistry
Issue 9, 2020

by Susan Barclay Nichols
e-Zine (PDF, 2.4 MB)
74 pages
Creating lotions and other products for our eye area takes some thought as we want to create something light, non-greasy, and pH balanced that won't irritate our thinner, more sensitive skin. Susan shares with you in this e-book her favorite formulas for light lotions, night creams, and gels, and how to turn those into sheet masks you can use for those days you need a little more TLC or soothing.
You'll also get her three page actives & extracts comparison chart so you can choose the right ingredient for the formula you're creating.
This e-book has been a long time coming! Susan's been writing this e-book in bits and bites over the last few years, updating it each time she found a new active for eye care products or created a few formula, and even as she finalized it at the end of November 2020, as she says, "Lotioncrafter has two more that I have to get so I can play more with these wonderful ingredients."
You can find the previous e-books – Actives & cosmeceuticals, part one, and Actives & cosmeceuticals, part two – on our website. You don't need to own these to enjoy this new e-book.
This e-Zine is published in English and is not available in any other languages.  This e-Zine is in PDF format and it is sent as a digital download.  It is not available in any other format and not available except as a digital download.
About the author
Susan Barclay Nichols lives in the Fraser Valley, B.C., Canada.  She stumbled upon a recipe for bath bombs and became obsessed with creating bath and body products. This is when her extreme interest in chemistry began. 
In 2009, she started Point of Interest, a bath and body products blog to share her love of creating products. Her favorite hobbies – other than creating bath and body products – include sewing, trivia, criticizing and correcting people's grammar and spelling, and striving to achieve expert status on bass in Rock Band 3. She lives with her wonderful husband, Raymond and their adorable dog, Sasja.
Because of the downloadable nature of this product, e-zines and e-books are final sale, and therefore not eligible for a refund.