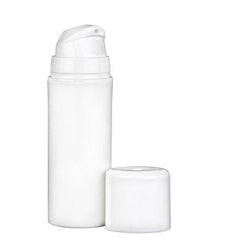 Airless Treatment Pump Bottle, White, 50ml
Our latest  Airless Treatment Pump Bottle is an all-plastic system based on Calmar's proprietary Rolling Bellow Technology, a 100% metal-free and easy-to-actuate engine, making it an excellent choice for skin care, make-up and treatment serums.  It has a matte white pearl finish with a white glossy cap. The bottle is made of a mixed plastic material and the cap and pump are polypropylene.  The bottle is filled and the top snaps on permanently, providing a tamper-proof package. With simple lines and easily customized with your label, it is especially useful for light sensitive products. 
All containers should be tested to determine their suitability for their intended product. As airless containers contain a gasket that moves up the chamber under vacuum pressure, they are not one-piece units. Pure oils and other oily formulations, or those that have a high silicone content, may not be suitable for these containers as they tend to lubricate the seal and can leak past it in an effort to equalize pressure on both sides of the gasket, resulting in a loss of vacuum and a failure to pump. Anhydrous products that contain a lot of powder (like our Double C Serum or C&E Intensive) do not work well in airless pumps.
Size: 50ml (1.7 ounce)
Manufacturer: Calmar
Finish: 134.6mm length x 31.66mm diameter (5.3" length x 1.246" diameter)  
Label Area:  98mm x 98mm (3.85" tall x 3.85" wide)
Material: Mixed Plastic Material - Recycle Code 7