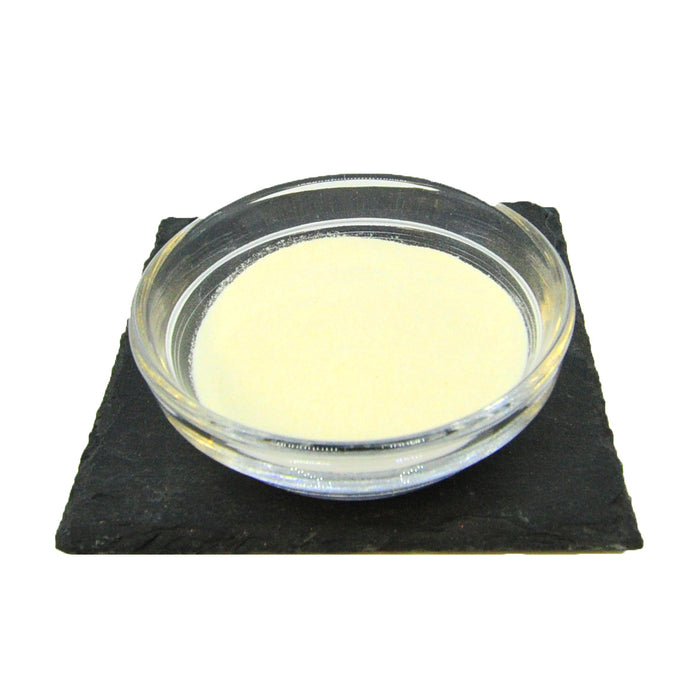 CAS No. 085507-69-3, 9050-36-6
Aloe Vera 100X Powder is carefully processed from the inner fillet of the aloe leaf. Care is taken to minimize disruption of the Aloin layer. Further processed to remove pulp and fiber, the aloe gel is pasteurized and concentrated utilizing low temperature evaporation. The gel is then freeze dried to produce a product without additional additives or preservatives. Freeze drying prevents the breakdown of the great majority of the long chain polysaccharides found in the fresh leaf, making this an exceptional product for cosmetic and nutraceutical applications. During production, this powder is combined with maltodextrin for ease of use and to reduce the clumping that can occur with the pure powder due to its hygroscopic nature. Although organically grown, this product is not Certified Organic.
One ounce of Aloe Vera 100X Powder is the equivalent of 100 ounces of our single strength Aloe Vera Juice 1X. If you are accustomed to using 10% of a single strength product, you would use only 0.1% of our Aloe Vera 100X Powder, making it a very cost effective addition.
INCI: Aloe Barbadensis Leaf Juice (and) Maltodextrin
California Prop 65 Statement: The following statement is made in order to comply with the California Safe Drinking Water and Toxic Enforcement Act of 1986. This product is not known to the State of California to cause cancer, birth defects or other reproductive harm. Additionally, exposure to a naturally occurring chemical in Natural Food Sources is exempt from reporting in accordance with Title 27, § 25501.
Recommend a pH above pH 3 and no greater than pH 8.5-9.
Recommended Usage Rate: 0.05 - 0.2%
Appearance: Fine Crystalline Powder
Color: White to Light Beige
pH: 3.5 - 5.0
Solubility: Soluble in water
Reconstitution: If desired, add one part Aloe Vera 100X Powder to 99 parts water (add appropriate preservative for long term storage).
Country of Origin: USA
Storage: Store in cool, dry place. Once reconstituted, product will darken with age. Preservatives must be added after reconstitution as this product is non-preserved. This is a hygroscopic powder, close container immediately upon use to avoid atmospheric water absorption.