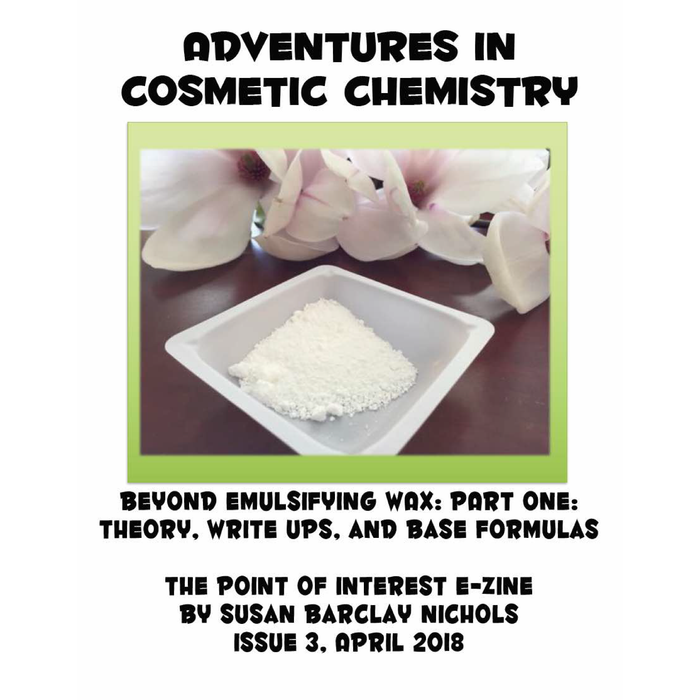 Beyond Emulsifying Wax: Part One e-Zine
e-Zine  - Digital Download
Adventures in Cosmetic Chemistry
Volume 3, 2018
by Susan Barclay Nichols
e-Zine (PDF, 1.1 MB)
70 pages
In this eZine, Susan talks about emulsifiers that create an oil-in-water lotions, which generally means there's more water than oil in the formula. Susan shares extensive write-ups for each emulsifier, along with a sample formula or two for each one. This eZine contains many formulations! In this zine she also writes about how to use different rheology modifiers or gelling agents, like Sepimax ZEN or Sepinov EMT 10, and solid esters, like cetyl palmitate or myristyl myristate, to thicken our products instead of relying on fatty acids or fatty alcohols. At 70 pages, this eZine is a very detailed and informational read, and definitely worth a read for anyone making lotions or using any sort of emulsifier in their lab.
This e-Zine is published in English and is not available in any other languages.  This e-Zine is in PDF format and it is sent as a digital download.  It is not available in any other format and not available except as a digital download.
About the author
Susan Barclay Nichols lives in the Fraser Valley, B.C., Canada.  She stumbled upon a recipe for bath bombs and became obsessed with creating bath and body products. This is when her extreme interest in chemistry began. 
In 2009, she started Point of Interest, a bath and body products blog to share her love of creating products. Her favorite hobbies – other than creating bath and body products – include sewing, trivia, criticizing and correcting people's grammar and spelling, and striving to achieve expert status on bass in Rock Band 3. She lives with her wonderful husband, Raymond and their adorable dog, Sasja.
 Because of the downloadable nature of this product, e-books and e-zines are final sale, and therefore not eligible for a refund.