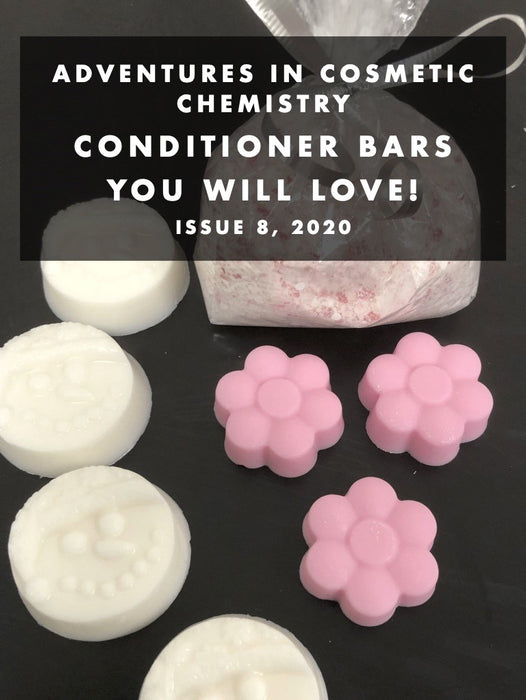 Conditioner Bars You Will Love E-Zine
e-Zine  - Digital Download
Adventures in Cosmetic Chemistry
Issue 8, 2020
by Susan Barclay Nichols
e-Zine (PDF, 284 MB)
66 pages
This e-book contains everything Susan's learned about making, using, and teaching conditioner bars over the last 14 years – all the questions, comments, suggestions, and everything else you might want to know about them.
Included are formulas on creating greener, more natural, vegan, and plant-based conditioner bars along with information to help you adapt your current formulas. You'll find ways to increase the detangling properties, emollience, and hydration. This e-book contains her favorite conditioner bar formulas with loads of information on how to customize these bars to work with your specific hair type. It even includes a pre-wash bar full of detangling and moisturizing ingredients!
There are so many benefits to using conditioner bars: This e-book will help you create luxurious, decadent, super-emollient packaging-free hair care products without sacrificing quality or using subpar ingredients.
This e-Zine is published in English and is not available in any other languages.  This e-Zine is in PDF format and it is sent as a digital download.  It is not available in any other format and not available except as a digital download.
About the author
Susan Barclay Nichols lives in the Fraser Valley, B.C., Canada.  She stumbled upon a recipe for bath bombs and became obsessed with creating bath and body products. This is when her extreme interest in chemistry began. 
In 2009, she started Point of Interest, a bath and body products blog to share her love of creating products. Her favorite hobbies – other than creating bath and body products – include sewing, trivia, criticizing and correcting people's grammar and spelling, and striving to achieve expert status on bass in Rock Band 3. She lives with her wonderful husband, Raymond and their adorable dog, Sasja.
Because of the downloadable nature of this product, e-zines and e-books are final sale, and therefore not eligible for a refund.