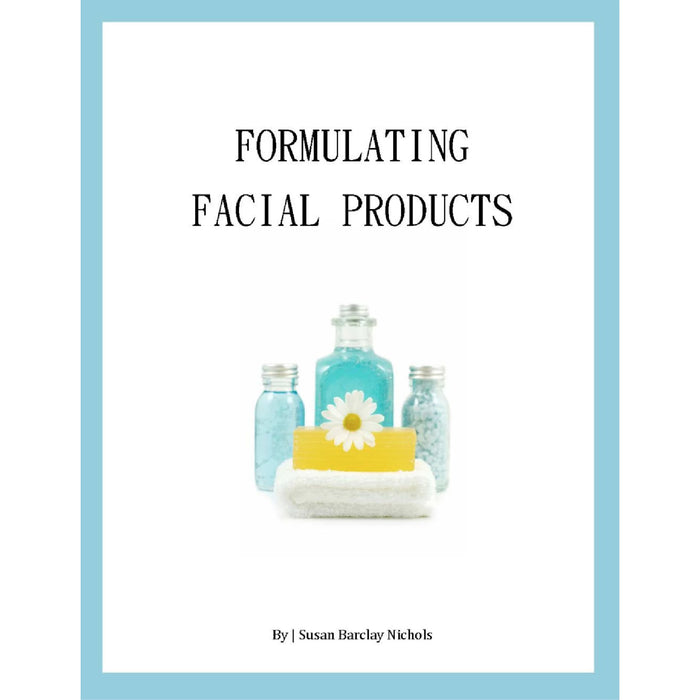 Formulating Facial Products e-book
E- Book  - Digital Download
by Susan Barclay Nichols
e-book (PDF, 9.07 MB)
400 pages
This e-book has more recipes than you can count for moisturizers, toners, cleansers of all types, scrubs, eye gels, facial sera, and more, as well as entries for extracts, preservatives, surfactants, cosmeceuticals, emulsifiers, thickeners, anti-oxidants, and essential oils, with a large oils section in the appendix.
Here are just some of the topics covered in the book:
Skin Chemistry
Skin Types
Cosmeceuticals
Botanical Extracts and Hydrosols
Essential Oils
Antioxidants
Exfoliants
Surfactants
Humectants
Thickeners
Emulsifiers
Preservatives
Click below to see the full Table of Contents for this book (and yes, it's 10 pages!)
Also included at the end of this book are five bonus charts including Susan's handy  Butter Comparison Chart, Carrier Oil Comparison Chart, Exotic Oil Comparison Chart, Surfactant Chart and a Preservative Chart to help make your formulating decisions easier!  Lotion Making 101 and Formulating and Creating Lotions (also sold here) are two other great additions to the beginning cosmetic formulator's arsenal of educational materials that will have you formulating the way you want to in no time at all!  In addition, your purchase of this and all of Susan's books goes to support the Youth Groups she facilitates at her local libraries.   It's a win-win for all!
This book is published in English and is not available in any other languages.  This book is in PDF format and it is sent as a digital download.  It is not available in any other format and not available except as a digital download.
About the author
Susan Barclay Nichols is a family support worker living and working in the Fraser Valley, B.C., Canada.  She stumbled upon a recipe for bath bombs and became obsessed with creating bath and body products. This is when her extreme interest in chemistry began. 
In 2009, she started Point of Interest, a bath and body products blog to share her love of creating products, and it somehow turned into a series of four e-books she wrote to raise money for the youth groups she and her husband run at their local libraries.

Her favorite hobbies – other than creating bath and body products – include sewing, trivia, criticizing and correcting people's grammar and spelling, and striving to achieve expert status on bass in Rock Band 3. She lives with her wonderful husband, Raymond and their adorable dog, Sasja.
Because of the downloadable nature of this product, e-zines and e-books are final sale, and therefore not eligible for a refund.