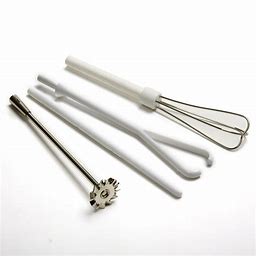 Our Mini Mixer is a great handheld, battery-powered tool everyone should add to their lab collection. It is the perfect size for mixing small test batches of any kind, dispersing powders into liquids, mixing small amounts of ingredients for creams or lotions, or even mixing ingredients already in a bottle. The Mini Mixer also comes with 4 attachments to meet all needs from whipping to stirring to high sheer mixing.
This Mini Mixer runs on 2 AA batteries, and has enough power to accomplish any mini-sized job in your lab.
Specifications:
Shaft Length:

102mm (4")

Attachment Length:

114mm (4.5")
Warranty Information:
Please note, the manufacturer of this mixer warrants that it will be free from defects in material and workmanship upon receipt of product; they offer no extended warranty.  Lotioncrafter extends a warranty for 30 Days from date of receipt.  Our warranty covers defects in material and workmanship for 30 days.  It does not cover misuse, dropping, or breakage of the product due to improper use.