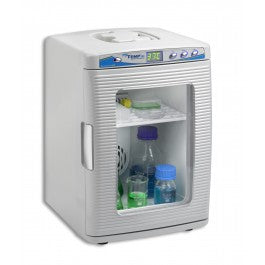 MyTemp Mini Digital Incubator
Have you wanted to properly incubate your microbial test samples or run accelerated heat stability testing of your cosmetic creations, but lacked the necessary equipment?  Well, now you can!
The MyTemp Mini Digital Incubator is the perfect size for a small lab. Its light weight and the handle on the top make it easy to carry and plug into AC power anywhere.  Its AC adapter even comes complete with an optional 12V adapter so you could even keep it powered up in your vehicle if need be!
With digital temperature control, the MyTemp incubator provides convenient 'set and walk away' operation, eliminating the need for external thermometers and repetitive 'fine tuning' of an analog control knob. Simply choose the desired temperature and the incubator immediately begins to heat up while accurately monitoring the chamber temperature and conveniently displaying the temperature in real time on the large LED control panel. Despite a modest footprint, the MyTemp incubator features a large internal chamber capable of storing flasks and bottles up to 2L. In addition, two adjustable/removable shelves are included for increased capacity. This Incubator model is a "heating only" type.
Quick Overview
Digital temperature control
Personal sized, 13 x 14.5" footprint
Accepts bottles and flasks up to 2 Liters
Extra shelf 10x5" included
Additional Details
| | |
| --- | --- |
| Temp Range (H) | Ambient +1C to 60C |
| Temp Accuracy | 0.5C at 37C |
| Temp Uniformity | +/- 1C at 37C |
| Temp Increment | 1C |
| Platform Dimensions | 9.5" x 11.5" |
| Operating Temp Range | +4C to +65C |
| Exterior Dimensions | 13.2" x 14.5 x 18.7" |
| Interior Dimensions | 10.3" x 9.3" x 12.8" |
| Capacity | 20L(0.75 cu. ft.) |
| Weight | 15 lbs |
| Electrical | 115V |
| Warranty | 2 Years |