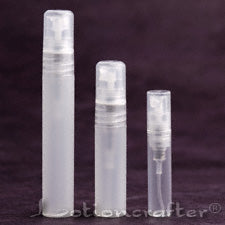 Perfect for Purse or Pocket!
These refillable misters now come in 8ml, 5ml and 2.5ml sizes. Made of polypropylene, the 8 and 5ml misters have screw fittings, the smallest 2.5 ml mister has a compression fitting and is translucent, rather than frosted. All are refillable, although the 2.5ml compression fitted mister can be a challenge to take apart.  Here's an inexpensive alternative for larger samples of room and body sprays or a great addition to your retail line!
Please note:  There are components of this product that are NOT FDA approved for food use, so these should not be used for oral sprays!
Specifications:
8ml mister = Capacity 8ml (about 1.5 tsp)
Length = 102mm (4 1/8")
Diameter = 15mm (5/8")
5ml Mister = Capacity 5ml (about 1 tsp)
Length = 77mm (3 1/16")
Diameter = 15mm (5/8")
2.5ml Mister = Capacity 2.5ml (about 1/2 tsp)
Length = 63mm (2 1/2")
Diameter = 12mm (15/32")