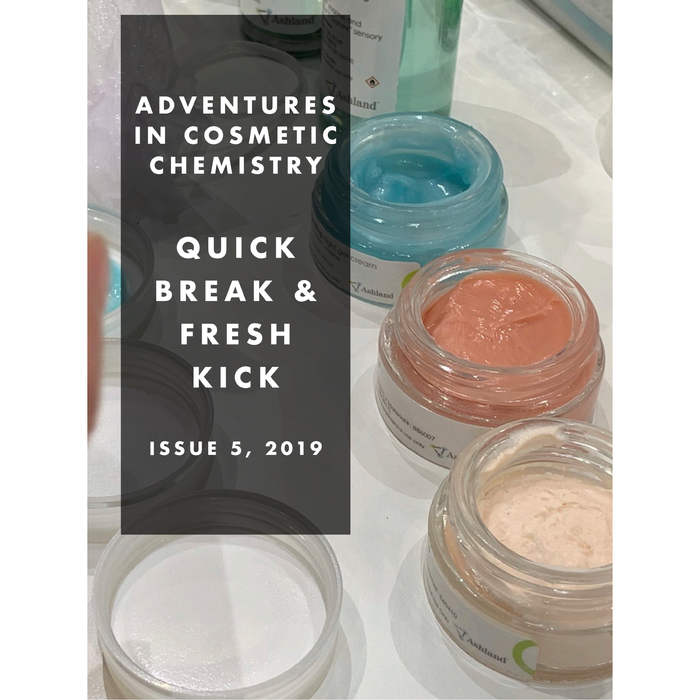 Quick Break & Fresh Kick e-Zine
e-Zine  - Digital Download
Quick Break & Fresh Kick
Adventures in Cosmetic Chemistry
Volume 5, 2019
by Susan Barclay Nichols
e-Zine (PDF, 940 KB)
43 pages
Susan's been obsessed with ways to describe the sensory experiences we have with our ingredients, and with summer upon us, she wanted to share how to make products with a cooling, fresh kick and a watery quick break.
Both of these terms come from a more minimalist point-of-view about skin care, less about occlusion and thick lotions and more about gels, hydro-gels, thinner moisturizers. Instead of using oil soluble fatty alcohols, butters, and fatty acids to thicken, we rely on water soluble gums, gels, and other rheology modifiers in small quantities to increase viscosity that will break when we rub them on our skin, offering us a lovely hydrating splash of water.
In this e-zine, Susan wants to introduce you to some of the ingredients you can use to create these sensory experiences, and offer some basic formulas so you can try these in your workshop to get an idea of what this all means and how you can incorporate it into your formulating. Susan's hope is that you'll get to know what this sensory experience is all about by creating a few different thing that offer it, then you can make some modifications to them with the ingredients you have in your workshop.
This e-Zine is published in English and is not available in any other languages.  This e-Zine is in PDF format and it is sent as a digital download.  It is not available in any other format and not available except as a digital download.
About the author
Susan Barclay Nichols lives in the Fraser Valley, B.C., Canada.  She stumbled upon a recipe for bath bombs and became obsessed with creating bath and body products. This is when her extreme interest in chemistry began. 
In 2009, she started Point of Interest, a bath and body products blog to share her love of creating products. Her favorite hobbies – other than creating bath and body products – include sewing, trivia, criticizing and correcting people's grammar and spelling, and striving to achieve expert status on bass in Rock Band 3. She lives with her wonderful husband, Raymond and their adorable dog, Sasja.
Because of the downloadable nature of this product, e-zines and e-books are final sale, and therefore not eligible for a refund.