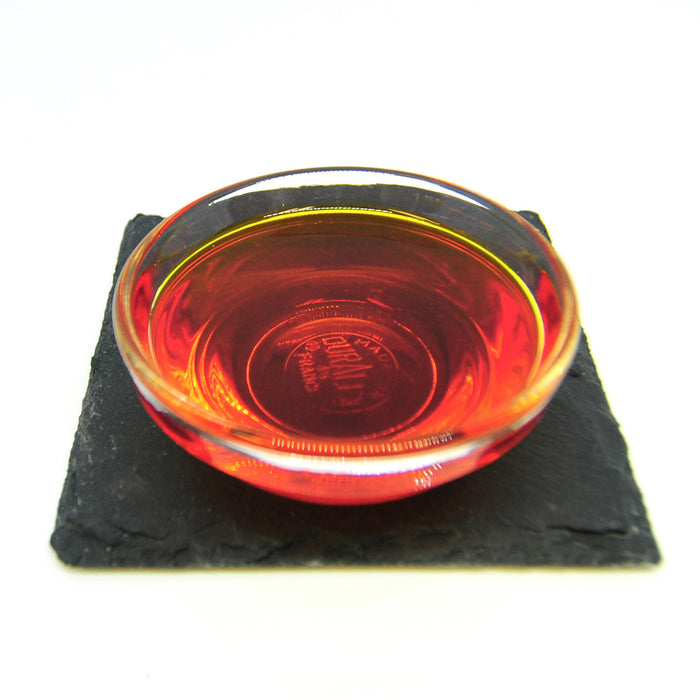 Carotene, Infused Sunflower Oil
CAS: 7235-40-7, 8001-21-6
Carotene Infused Sunflower Oil is a highly moisturizing oil produced by infusing a carotene-concentrate derived from algae into sunflower oil.  Sunflower Oil is rich in essential fatty acids, primarily oleic (C18:1).The high oleic acid content, among other effects, has a positive effect on the oxidative stability of this oil.
When beta-carotene (Vitamin A) is applied topically to the skin, it converts to an active form of retinol. Retinol has been shown to boost collagen production, and cell turnover, as well as fade pigmentation.
The rich combination of naturally occurring omega fatty acids makes Carotene Infused Sunflower Oil a superior emollient that helps rebuild, moisturize and rehydrate skin cells, strengthen hair and acts as an antioxidant on the skin. 
Cosmetic Applications
Skin: Repair and detoxification
Colorant: bright reddish color

INCI: Dunaliella Salina Extract (and) Helianthus Annuus Seed Oil
Disclaimer 
Statements contained herein have not been evaluated by the Food and Drug Administration. This product is not intended to diagnose, treat and cure or prevent disease. Always consult with your professional skin care provider.
California Prop 65 Statement: The following statement is made in order to comply with the California Safe Drinking Water and Toxic Enforcement Act of 1986. This product is not known to the State of California to cause cancer, birth defects or other reproductive harm.
Carotene Infused Sunflower Oil Specification Sheet - Coming Soon!
Recommended Usage Level:

 10-25%, will stain if used at 100%


Appearance:

Red to orange oily liquid


Manufacturing Method:

 Natural Herb Infusion


Odor:

 Characteristic

Carotene Content:

~1% w/w
Solubility:

Soluble in oil & alcohol, Insoluble in water


Country of Origin:

 United Kingdom


Shelf Life and Storage:

 24 months from the date of manufacture. Keep in a sealed container away from sunlight. Do not freeze. Store at room temperature 66° - 77°F (20° - 25°C).