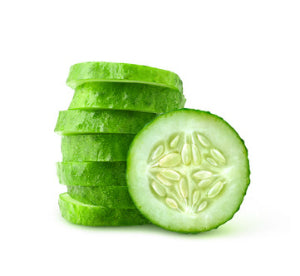 Our Cucumber Hydrosol is a product of the steam distillation of Cucumber fruit. Since the cucumber fruit is mostly made up of water, the Cucumber Hydrosol carries an extremely similar bright, fresh, crisp scent as its fruit counterpart. With a scent as refreshing as Cucumber Hydrosol's, you'll find yourself reaching for it to create enticing body splashes and toners, as well as adding it to lotions and natural room refreshers. Cucumber is known to be a great skin conditioner, so it makes for a wonderfully refreshing facial spray, and a soothing and cooling spray for sun burns and wind burns.
Our aromatic Cucumber Hydrosol can be used in soothing and cooling skin care applications. You can use Cucumber Hydrosol as a refreshing, yet soothing facial mist. Cucumber Hydrosol can be combined with other hydrosols or used alone. It can also be used as the water phase in skin care and hair care formulations.
Cucumber Hydrosol is preserved with Leucidal Liquid SF, a mild and natural preservative. It is for external use only.
INCI: Cucumis Sativus (Cucumber) Distillate
California Prop 65 Statement: The following statement is made in order to comply with the California Safe Drinking Water and Toxic Enforcement Act of 1986. This product is not known to the State of California to cause cancer, birth defects or other reproductive harm. 
Parts Distilled: Fruit
Extraction Method: Steam Distilled
Recommended Usage Rate: Up to 100%
Appearance: Clear, water-like liquid
Solubility: Soluble in water
Preservative: Leucidal Liquid SF
Storage: Room temperature. Refrigeration recommended after opening. Protect from microbial contamination.