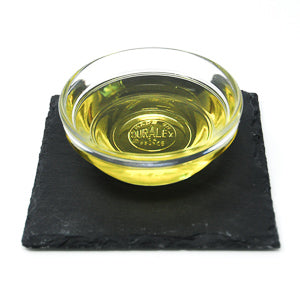 Marula Seed Oil, Cold-Pressed
4/14/23: We have switched manufacturers of Marula Oil to a product with a better shelf life. Please refer to the Specification Sheet under the SDS & Tech Data tab for more information.
CAS: 68956-68-3

Cold-pressed from the kernels of the fruit of the Marula tree (Sclerocarya birrea), Marula oil has been used traditionally in Southern Africa for thousands of years. It is rich in antioxidants, with exceptional resistance to oxidation due to its high degree of mono-unsaturated fatty acids. Marula Oil contains a similar fatty acid composition to olive oil but is 10 times more resistant to oxidation. Light and easily absorbed, it contains high proportions of oleic acid (70-78%), as well as linoleic acid (4-7%) making it an ideal oil for topical use for improved skin hydration and supple smoothness. Our Marula Oil is virgin, non-GMO.
Cosmetic Applications
Skin:

Soothing dry chapped skin, reducing redness and maintaining hydration.

Hair:

Emollient oil for dry, damaged and fragile hair

Lips:

Ingredient for lip balms, lipsticks and other lip care products.

Aromatherapy:

As a carrier for aromatherapy formulas

Massage:

As part of a massage oil blend to lighten heavier oils and improve oxidative stability.
INCI: Sclerocarya Birrea (Marula) Seed Oil
California Prop 65 Statement: The following statement is made in order to comply with the California Safe Drinking Water and Toxic Enforcement Act of 1986. This product is not known to the State of California to cause cancer, birth defects or other reproductive harm.
Recommended Usage Level:

1.0% - 100.0%


Appearance:

Clear light yellow liquid


Solubility:

Soluble in cosmetic esters and fixed oils; Insoluble in water
Part Used: Nut Kernels


 
Try Out These Formulations Using This Ingredient:
Rose Clay & Marula Oil Facial Cleanser