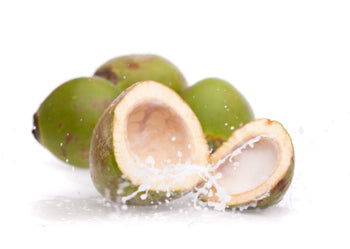 CAS:  68333-16-4 & 8001-31-8 
AMTicide® Coconut is created by fermenting Cocos nucifera (Coconut) fruit with Lactobacillus to deliver a non-irritating, effective and multifunctional product which can provide moisturizing and conditioning benefits in hair and skin care applications.  In addition, it is effective at preventing the growth of fungus, specifically yeast and mold, thus providing additional protection for formulations using natural preservatives systems.
AMTicide® Coconut was developed to be used in conjunction with Active Micro Technology's broad-spectrum antimicrobials like Leucidal® Liquid and Leucidal® Liquid SF, but it can be used alongside any preservative system for extra protection against yeast and mold. 
AMTicide® Coconut was developed using the lipid fractions of coconut pericarp and Advanced Micro Technologies' specialty technique of Lactic Acid Bacteria (LAB) fermentation which increases the bioavailability of natural phytocompounds. The resulting fermentation was found to have natural antifungal properties in addition to its moisturizing and conditioning benefits. 
The choice of preservatives for personal care formulations should be carefully considered.  We recommend that every formula undergo stability and microbial testing to ensure adequate preservation.
Key Benefits
Naturally derived
Heat stable to 70°C (158°F)
Antifungal, anti-mold activity
Compatible with a wide range of cosmetic ingredients.
Very mild, with low to no irritation potential
Non-GMO
Vegan Compliant
No Animal Testing
Now on Whole Foods Acceptable Premium Preservative List
INCI: Lactobacillus (and) Cocos Nucifera (Coconut) Fruit Extract
Shipping Information: HS Code 1302190000
Do not directly apply onto your skin. This product should be added to a formulation at the recommended usage rate.
Disclaimer
Statements contained herein have not been evaluated by the Food and Drug Administration. This product is not intended to diagnose, treat and cure or prevent disease. Always consult with your professional skin care provider.
California Prop 65 Statement: The following statement is made in order to comply with the California Safe Drinking Water and Toxic Enforcement Act of 1986. This product is not known to the State of California to cause cancer, birth defects or other reproductive harm.
AMTicide Coconut is a cationic material, so it may be incompatible with anionic formulations. AMTicide Coconut should be added to the water phase or after the emulsion has formed at 70°C (158°F) or lower.
Recommended Usage Level: 2.0% - 4.0%
pH (as supplied): 7.0 - 9.0
Appearance: Clear to slightly hazy liquid
Odor: Characteristic, but mild aroma
Solubility: Soluble in water, glycerin and propylene glycol, immiscible with oils.
Storage and Use: Sealed container away from sunlight. Do not freeze. Store at room temperature (20° - 25°C)