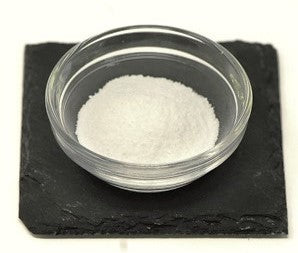 Aminopropyl Ascorbyl Phosphate (AAP)
CAS No. 220644-17-7

Aminopropyl Ascorbyl Phosphate (AAP) is a water soluble derivative of Vitamin C created by combining l-ascorbic acid with 3-APPA (3-aminopropyl dehydrogen phosphate), a molecule that boosts the stability of the l-ascorbic acid.
Vitamin C is a potent, naturally occurring antioxidant which plays a pivotal role in the prevention of dry skin and wrinkles, collagen synthesis and skin regeneration, as well as skin lightening and brightening, but it is inherently unstable in water.
This is a cosmetic raw material and is meant for external use only in cosmetic formulations.  As with all of our materials, it should not be taken internally.
INCI: Aminopropyl Ascorbyl Phosphate

California Prop 65 Statement: This product may contain Lead (≤ 1ppm), Mercury (≤ 0.1ppm), Cadmium (≤ 0.5ppm), Nickel (≤ 2ppm), Arsenic (≤ 2ppm), and Methanol (≤ 60 ppm), which are known to the State of California to cause cancer, birth defects or other reproductive harm.
While AAP is considered to be quite stable, the addition of a chelating agent such as EDTA can boost protection against oxidation. The pH for optimal stability is 5.5 - 6.0. 
Even though AAP is significantly more stable than ascorbic acid itself, we still do not recommend that it be exposed to heat for long periods of time.  The safest method of incorporation is during the cool down phase at <40°C.
Typical usage rate: 0.1 - 1%
Appearance: White to pale yellow powder
pH (in aqueous solution): 1.7- 3.7
Solubility: Freely soluble in water
Country of Origin: Korea