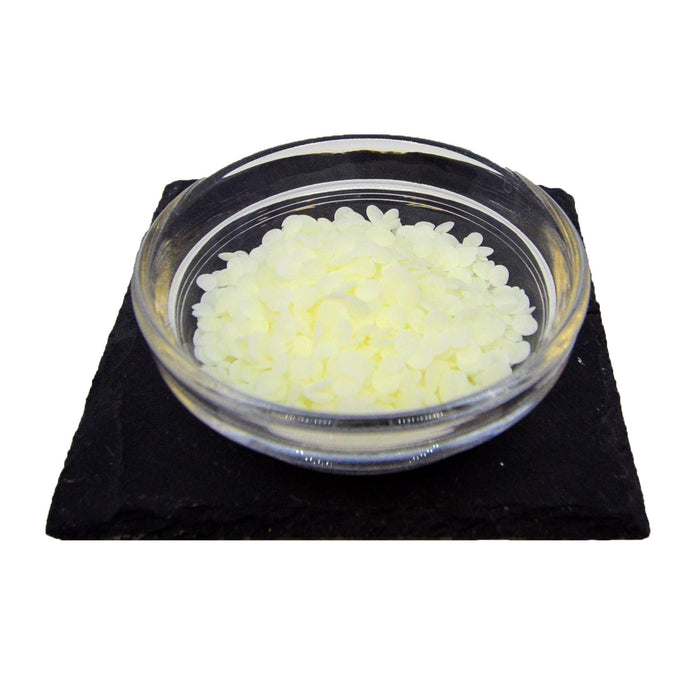 CAS#: 136097-93-3
Cera Bellina is a hydrophilic derivative of natural beeswax in which the free fatty acids have been converted to polyglycerols esters through the use of heat and vacuum. Elimination of the free fatty acid functionalities in beeswax improves the oil gelling and oil retention capability.
Products formulated with Cera Bellina and natural as well as synthetic oils produce remarkably stable, smooth gels. This property is also beneficial in emulsion products, where its hydrophylic properties enable it to act as a coemulsifier and its rheology modifying properties lend increased formulation stability.  In decorative cosmetics, Cera Bellina helps to break up pigment agglomerates by forming a gel network thereby maintaining an even distribution of ingredients. Cera Bellina also suppresses the fatty acid, fatty alcohol migration and oil syneresis in finished stick formulas.
Cera Bellina has the unique ability to give stability by forming non-granular gels of liquid oils. Besides the consistency regulating properties of beeswax, Cera Bellina has the remarkable capability of inhibiting crystallization in the oil phase and therefore enhancing stability by preventing the formation of granules.  This attribute can eliminate the graininess or rice granule effect that can occur when using shea and other natural butters in anhydrous formulations such as lip balms and lotion bars.
Cera Bellina also greatly improves stability in dispersions utilizing non-soluble components, such as organic and inorganic pigments, as well as mineral and polymer extenders.
Benefits
Imparts a smooth, satin-like feeling to the skin
Solubility and safety similar to beeswax
Suitable for sensitive skin
Emulsion stabilizer
Functions like a low HLB coemulsifier
Gelling agent for oils
Thickener in anhydrous products
Pigment stabilizer
Applications
Lip balms and lotion bars
Emulsions (oil-in-water and water-in-oil)
Thickener for anhydrous, oil-based serums
Oil gel products
Color cosmetics
INCI:  Polyglyceryl-3 Beeswax
California Prop 65 Statement: The following statement is made in order to comply with the California Safe Drinking Water and Toxic Enforcement Act of 1986. This product is not known to the State of California to cause cancer, birth defects or other reproductive harm. 
When working to replace a portion of the oils in existing formulations with Cera Bellina for its rheological properties, it is suggested to add Cera Bellina at 10-15% of the oil phase to start.
When gelling oils, best results are obtained if cooling is slow, especially for less viscous oils. The specification for congealing temperature of Cera Bellina is 145.5 – 163.5°F. This wide range can result in some differences in viscosity depending on usage rate. It is helpful to make note of the congealing temperature of the Cera Bellina lot you receive and do small batch tests to determine if usage rate needs adjusting in your formulation, if the temperature from lot to lot is significantly different.
The % of Cera Bellina needed to gel specific oils will vary, depending on the oil and the congealing temperature of the Cera Bellina. Some examples:
Avocado Oil 8%
Castor Oil 6.5%
Sweet Almond Oil 9%
Olive Oil 9.1%
Jojoba Oil 2.3%
IPM 25.0%
Phenyl Trimethicone 29.0%
Lip Balms and Stick Products 1 - 20%
Emulsions 1 - 2%
Gelled Oils 1 - 29%
Appearance: 
White to off white pastilles
Odor:
Neutral to wax-like
Saponification Value:
80 - 94 mg KOH/g wax
HLB Value:
Approximately 4 -5 
Melting Point:
63 - 73 degrees C
Shelf-Life:
2 years from the date of manufacture