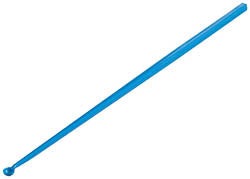 Our
Micro Measuring Scoop
is made of polypropylene and is an ideal micro sample transfer scoops.  Because the density of powders and liquids vary, these scoops will measure a volume whose weight will vary, hence the weight will generally be within the stated range below.
Because liquids form a meniscus when dropped into these, it is difficult to say precisely what the volume is, but when weighed on a scale that measures to 0.001 grams, and converted to milliliters, we get the following:

Capacity by Volume: 0.014ml
We've had an opportunity now to use these with a variety of cosmetic ingredient powders and we've noted the average typical weights in below in parenthesis.
Capacity by weight: 6-8mg  (average 6mg)
Length: 140mm (5  7/16")
Material: Polypropylene