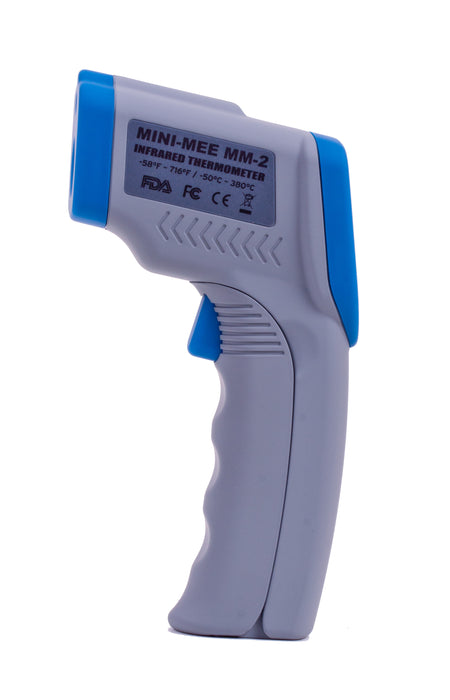 MINI-MEE MM-2 Infrared Laser Thermometer
Fast and accurate temperature measurement without cross contamination!  The new MINI-MEE MM-2 is compact, rugged, and easy to use.  Simply aim and push the button. The thermometer reads surface temperatures in less than a second.  Safely measure surface temperatures of hot, cold, hazardous or hard-to-reach objects without contact.  The MM-2 has a comfortable grip, and a distance-to-spot ratio of 12:1.  That means you can read a 1" diameter target area from 12 inches away or a 1 foot area target from 12 feet away! The built-in laser can be switched on or off and it provides easy aiming.
How they work:
Infrared thermometers measure surface temperature by detecting thermal energy radiated from an object and converting the detected energy to a temperature reading displayed on the instrument's LCD.  The laser facilitates aiming, allowing the location of measurements to be more precise.
Specifications:
Laser sighting for accurate aiming
Infrared Temperature Range -58° to 716°F (-50° to 380°C)
Infrared Accuracy ± 2% of reading or ± 2°C
Selectable temperature units °F/°C
Response Time: ≤0.8s
12:1 Distance-to-spot size ratio
Emissivity: 0.95 fixed
Bright large blue back-lit LCD display
Select Laser On/Off
Uses one 9V battery (included) to provide nominal 30 hours of continuous operation
Automatic power OFF