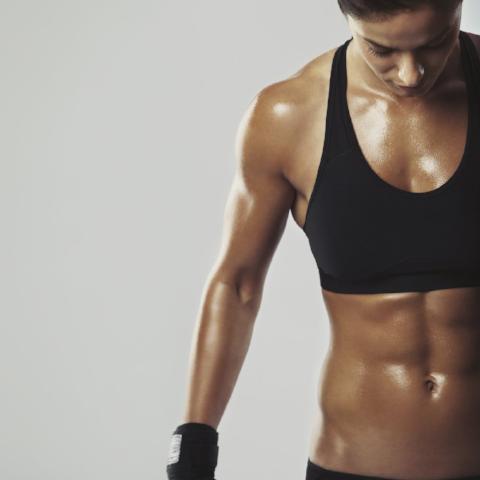 Actigym™ Marine Ingredient is obtained by biotechnology from a microorganism inhabiting Bermuda.  Actigym™ mimics the effect of endurance exercise training by increasing adiponectin release and enhancing mitochondrial activity.  It improves body tone and redefines the silhouette by reducing abdomen and thigh contour, arm sagginess, and decreasing body weight.  It mimics the effect of endurance training with great results that are increased when combined with physical activity.
Cosmetic Benefits
Boosts mitochondrial metabolism in muscle cells by adiponectin signaling, increasing citrate synthase activity by 47.9% and ATP production by 136%
Promotes development of the more resistant type 1 muscle fibers by 69%
Down regulates expression of adipocyte genes involved in focal adhesion uptake and TG synthesis
Provides a general improvement in the appearance and tone of body silhouette
Can be used for lifting/tightening with facial applications
COSMOS/ECOcert
Applications

Body firming and contouring lotions and gels
Neck and decolletage products
INCI:  Glycerin, Water, Bacillus/Soybean Ferment Extract
Important Note:  Actigym™ is a registered trademark of Lipotec and it cannot be referenced in your marketing literature without a signed Trademark Agreement with Lipotec. 
This product should be added to a formulation at the recommended usage rate.
Shipping Information: HS Code 3304999000
Disclaimer
Statements contained herein have not been evaluated by the Food and Drug Administration. This product is not intended to diagnose, treat and cure or prevent disease. Always consult with your professional skin care provider.
California Prop 65 Statement: The following statement is made in order to comply with the California Safe Drinking Water and Toxic Enforcement Act of 1986. This product is not known to the State of California to cause cancer, birth defects or other reproductive harm.
To request technical documentation, please contact Lotioncrafter at support@lotioncrafter.com  
Add directly to the water phase if cold-processing or during cool-down after the emulsion has formed if hot-processing.
Recommended final pH range of formulations should be between 3.5 and 8.0
Recommended Usage Rate: 5%
Appearance: Colorless to yellow, translucent solution
Manufacturer: Lipotec
Solubility: Soluble in water and glycols (glycerin, butylene glycol, propylene glycol)
Percent Active Ingredient: 0.07%
Preservative:  Preservative free
Shelf Life: 2 years from the date of manufacture
Try these formulations using this ingredient: