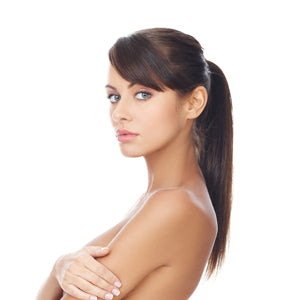 Adifyline® peptide is the perfect ingredient to diminish the effects that the aging process causes in the skin. In facial formulations, it can increase the supporting tissue beneath the skin, improving facial appearance. In body products, it can be used to enhance the volume of certain areas like breast or buttocks.
In the face, adipose tissue is mostly found beneath the skin and acts as supporting tissue. In the breast, adipose tissue is a high percentage of the total gland composition. It has an essential role in defining breast shape and size.
Cosmetic Benefits
Restores youthful curves by redistributing volume
Plumps up fine lines and wrinkles from within
Redefines facial contours
Applications
Adifyline® peptide can be incorporated in many formulations and products to increase local volume. This includes facial redefining products, breast firming formulations, facial anti-aging products, make up for mature women, lip care products and make up, specific formulations for the cleavage area (mature women), and anti-aging products for hands, which lose adipose tissue with age. Moreover, it can also be incorporated as a complementary ingredient in hydrating, firming and sun care products for specific body care areas (buttocks and breast) with a replenishing effect.
INCI: Butylene Glycol, Water, Acetyl Hexapeptide-38
Important Note:  Adifyline® is a registered trademark of Lipotec and it cannot be referenced in your marketing literature without a signed Trademark Agreement with Lipotec.
Do not directly apply onto your skin. This product should be added to a formulation at the recommended usage rate.
Disclaimer
Statements contained herein have not been evaluated by the Food and Drug Administration. This product is not intended to diagnose, treat and cure, or prevent disease. Always consult with your professional skin care provider.
California Prop 65 Statement: The following statement is made in order to comply with the California Safe Drinking Water and Toxic Enforcement Act of 1986. This product is not known to the State of California to cause cancer, birth defects or other reproductive harm.
To request technical documentation, please contact Lotioncrafter at support@lotioncrafter.com  
Needs to be added in the aqueous phase. In case of emulsions, it should be added once the emulsion is formed and at temperatures below 40 C.
pH of the final formulation should be between 3.0 and 8.0.
Soluble in water, ethanol, and glycols (glycerin, butylene glycol)
Recommended Usage Rate: 2%
Appearance:  Transparent solution containing 0.05% active ingredient
Manufacturer: Lipotec
Preserved with: Preservative free
Country of Origin: Spain
Long Term Storage: Store in a clean, cool and dark place.
Shelf Life: 2 years from the date of manufacture