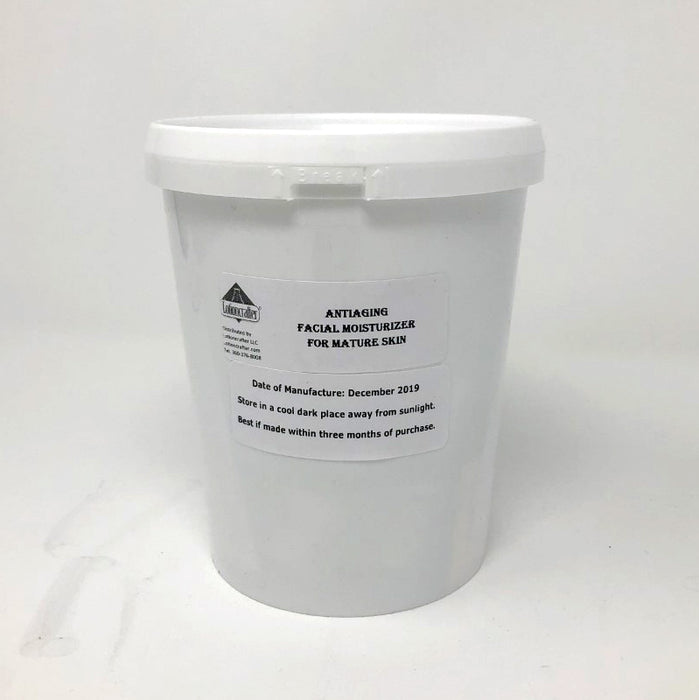 Anti-Aging Facial Moisturizer Kit
Note:  Due to the continuing shortage of Syn-Hycan, we are now making this kit with Syn-TC, which contains Syn-Hycan as well as other collagen boosting ingredients!
Our Anti-Aging Facial Moisturizer for Mature Skin harnesses the power of Gladback, Decorinyl, Trylagen PCB and Syn-TC to offer a superb moisturizer for mature skin.
Loss of skin firmness and thinning of skin are typical of aging skin. Gladback is a multifunctional active created to increase skin thickness, radiance and microcirculation. Syn-TC helps to fight sagging skin by boosting Hyaluronan content and increasing the expression of decorin and lumican. Decorinyl mimics the sequences of decorin that bind to collagen fibrils, improving firmness and elasticity of the skin. Trylagen PCB boosts the synthesis of collagen types I, III and IV, helping to compensate for decreased production as we age, organizing collagen fibers and helping to protect collagen from degradation. These actives are combined with Sodium PCA for moisturizing and Meadowfoam and Argan oils for emollience. Use this moisturizer on the face, neck and décolletage.

You'll get everything you need to create 150ml (5 ounces) of the Anti-Aging Facial Moisturizer for Mature Skin shown in our Formulary. All you'll need to provide is distilled water.
You'll receive:
Gladback
Decorinyl
Trylagen
Syn TC
Meadowfoam CP
Argan Oil
Sodium PCA
Xanthan Gum
EmulThix 
Liquid Germall Plus 
Instructions

Please note: This kit comes with MORE of each ingredient then you will need for the formulation, so a scale is essential to success! You can purchase a pack of 5 White Airless Treatment Pumps for your finished formulations here.
California Prop 65 Statement: The following statement is made in order to comply with the California Safe Drinking Water and Toxic Enforcement Act of 1986. According to the manufacturers of each raw material within this kit, this product is not known to the State of California to cause cancer, birth defects or other reproductive harm. Please refer to the raw material product descriptions on our website for further information.