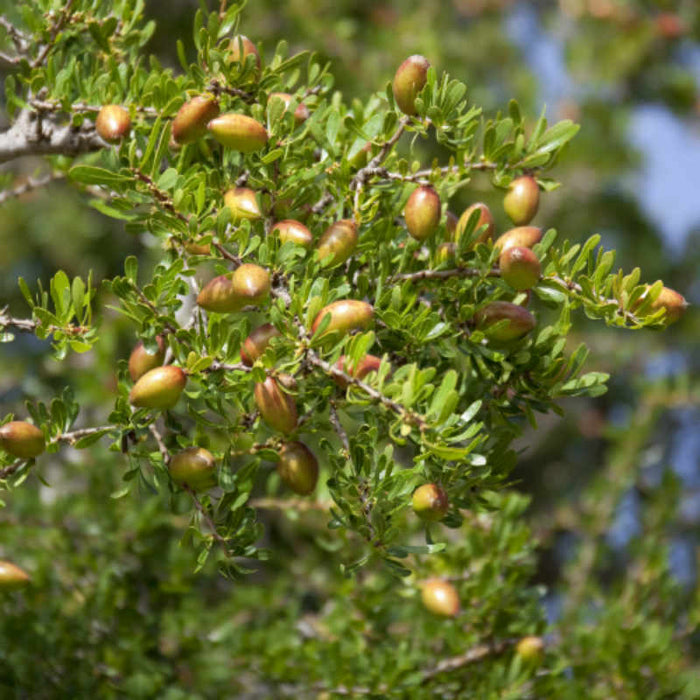 CAS: 223747-87-3
The Argan (Argania spinosa) tree is an unusual thorny tree almost exclusively native to the geographical area of south west Morocco, making the oil produced from its seeds one of the rarest in the world. Growing in the arid climate of that area, its fruits take up to one year to ripen. Consisting of a thin fleshy hard-to-peel exterior surrounding an inner nut containing up to three large seeds, it is these seeds that are rich in essential fatty acids, tocopherols, phytosterols and triterpene alcohols.
Argan oil contains up to 80% unsaturated fatty acids, mainly Oleic acid (45%) and Linoleic acid (35%). Argan oil also contains approximately 1% of unsaponifiables with biologically acitve substances, including phytosterols, triterpene alchohls, tocopherols, hydrocarbons, carotenes and xantophylles.
Our Virgin Argan Oil has been deodorized to remove the pungent scent of this oil. It has not been refined. Somewhat subject to oxidation, we store and ship Argan oil under an inert Argon gas blanket. While not necessary in the short term, we recommend Argan oil be kept under refrigeration for long term storage.
Testing has shown Argan Oil to have an optimum required HLB of 11:
Article: Argan oil-in-water emulsions: preparation and stabilization
Authors:
Yaghmur, A.; Aserin, A.; Mizrahi, Y.; Nerd, A.; Garti, N.
Journal of the American Oil Chemists' Society, January 1999, Vol 76, Issue 1, pp 15-18
Abstract:
We prepared stable oil-in-water emulsions of argan oil with two different types of mixtures of nonionic emulsifiers. Three different types of oil (Israeli argan oil, Moroccan argan oil, and soybean oil) were emulsified with mixtures of Span 80 and Tween 80. The optimum HLB value for argon oil was 11.0 (±1.0). The argan oil-in-water emulsions were stable for more than 5 mon at 25°C. Synergistic effects were found in enhancing stability of emulsions prepared with sucrose monostearate. The origin of the oil and the internal content of natural emulsifiers, such as monoglycerides and phospholipids, have a profound influence on its interfacial properties and on the stability of the argan oil-in-water emulsions.
Cosmetic Applications

Skin:

Anti-aging products, for soothing acne, eczema, psoriasis and other skin conditions, recommended for after-sun care products

Hair:

Emollient oil for dry, damaged and fragile hair

Lips:

Soothing ingredient for lipbalms, lipsticks and other lip care products.

Nails:

Conditioning oil for brittle nails
INCI: Argania Spinsosa (Argan) Oil
California Prop 65 Statement: The following statement is made in order to comply with the California Safe Drinking Water and Toxic Enforcement Act of 1986. This product is not known to the State of California to cause cancer, birth defects or other reproductive harm.
Usage Rate: 1 - 100%
Appearance: Clear golden yellow oil with bland aroma
Extraction Method: Expeller Pressed (without solvents)
Country of Origin: Morocco
Required HLB: 11
Try out these formulations using this ingredient:
 Antiaging Facial Moisturizer for Mature Skin