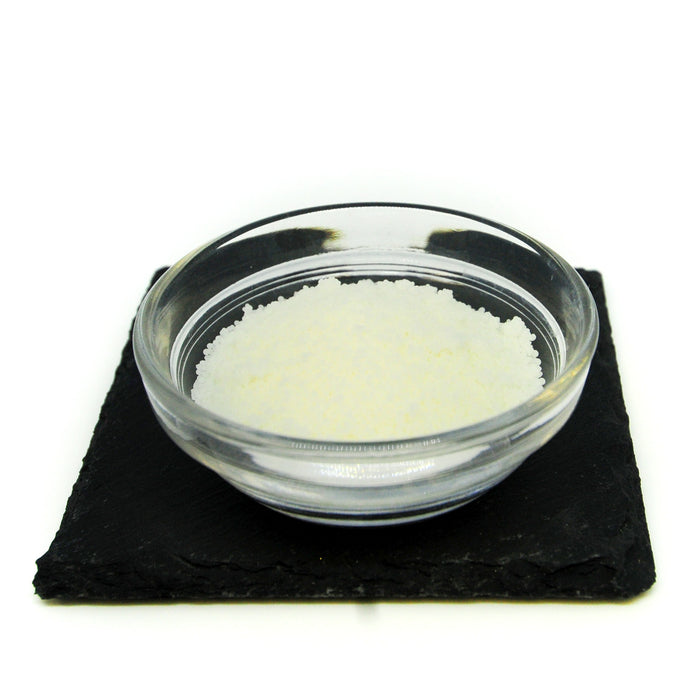 CAS#: 8012-89-3
Beeswax, considered to be among the earliest of raw materials used by man from the time of the ancient Egyptians, Greeks and Romans, was used in many ways, not the least of which was in early medicine and cosmetics.
We offer White Beeswax made here in the USA to the National Formulary standard.  The acid number of beeswax ranges from 17 - 24; so between 57.9 - 81.5mg of borax is required from 1 gram of beeswax. Borax is 5 - 7% of the weight of beeswax.
Beeswax, by itself is not an emulsifier. When combined with Sodium Borate (aka Borax) in water, an emulsion can be made.  This is because borax dissolves in water and produces boric acid and sodium hydroxide.  The sodium hydroxide interacts with the cerotic acid in the beeswax (present at about 13%), neutralizing it and forming an anionic emulsifier called sodium cerotate and the boric acid acts to buffer the resulting emulsion.  This emulsifier makes the oil and water less likely to separate and the resulting cream more stable.
While it is possible to make an "emulsion" with just beeswax, oils and water, heat and a great deal of mechanical high shear mixing, these resulting "emulsions" are not inherently stable and will tend to separate on standing, or when subjected to heat.  This is because they are solely mechanical emulsions rather than chemically based ones. 
Beeswax is also used in many anhydrous products where it thickens formulations, adds to binding strength and improves structure, oil retention, pay-off and mold release.
Applications
Lip balms and lotion bars
Emulsions (oil-in-water and water-in-oil)
Thickener for anhydrous, oil-based serums
INCI: Beeswax (EU: Cera Alba)
California Prop 65 Statement: The following statement is made in order to comply with the California Safe Drinking Water and Toxic Enforcement Act of 1986. This product is not known to the State of California to cause cancer, birth defects or other reproductive harm. 
Recommended Use Rates:  1 - 100%
Appearance: White to off white granules
Odor: Neutral to wax-like
Acid Value: 17-24 mg KOH/g wax
Melting Point: 62 - 65°C (143.6 - 149.0°F)
Shelf Life: Retest 3 years from date of manufacturer
Country of Origin:  USA
Try Out These Formulations Using this Ingredient: