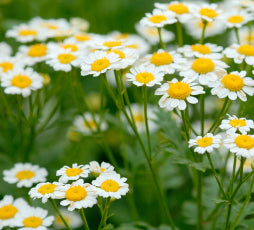 Chamomile Extract contains active flavonoid and essential oil compounds, which are particularly advantageous in the care of sensitive skin. Anti-inflammatory properties-due to the inhibition of histamine release, anti-free radical action and inhibition of the super oxide radical synthesis is key. In addition, these compounds show remarkable vasodilator action, augmenting blood flow to the skin and soothing of irritation.

Our Chamomile Extract is a standardized extract of the flowers of Matricaria Recutita L. obtained in a 50:50 medium of glycerin and water.
Cosmetic Applications:
Skin Care as tonic for sensitive and irritated skin
Body Care for tired legs and sensitive skin
Body Care in sun protector products and after-sun soothing products
Hair Care in repairing products for blond hair and scalp soothing products
The raw material is certified by ECOCERT Greenlife according to the COSMOS Standard. 
This is a cosmetic raw material and is meant for external use only in cosmetic formulations.  As with all of our materials, it should not be taken internally.
INCI: Glycerin (and) Water (and) Matricaria Recutita Flower Extract
Disclaimer
Statements contained herein have not been evaluated by the Food and Drug Administration. These products are not intended to diagnose, treat and cure or prevent disease. Always consult with your professional skin care provider.
California Prop 65 Statement: The following statement is made in order to comply with the California Safe Drinking Water and Toxic Enforcement Act of 1986. This product is not known to the State of California to cause cancer, birth defects or other reproductive harm.
Recommend adding to an emulsion during the cool-down phase. Can be added to the water-phase if cold-processing.
Typical Usage Rate: 0.1 - 2%
Appearance: Brown transparent liquid with characteristic odor
Solubility: Soluble in water


Try out these formulations using this product: