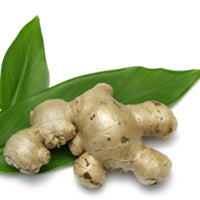 Ginger Root Extract, one of the best known botanicals since ancient times, has excellent anti-aging properties due to its ability to almost totally inhibit collagen degradation by collagenase enzyme inhibition. It allows the maintenance of protein levels in the dermis and skin flexibility. It also acts as an anti-oxidant and anti-inflammatory. Ginger Root Extract is used in formulations for skin and hair products, including refirming, massage and anti-dandruff preparations.
Our Ginger Root Extract is a standardized extract of the roots of Zingiber Officinate obtained from ginger grown without pesticides or other chemicals in a 50:50 medium of glycerin and water.
The raw material is certified by ECOCERT Greenlife according to the COSMOS Standard. 
This is a cosmetic raw material and is meant for external use only in cosmetic formulations.  As with all of our materials, it should not be taken internally.
INCI: Glycerin (and) Water (and) Zingiber Officinale Root Extract
This product should be added to a formulation at the recommended usage rate.
Disclaimer 
Statements contained herein have not been evaluated by the Food and Drug Administration. These products are not intended to diagnose, treat and cure or prevent disease. Always consult with your professional skin care provider.
California Prop 65 Statement: The following statement is made in order to comply with the California Safe Drinking Water and Toxic Enforcement Act of 1986. This product is not known to the State of California to cause cancer, birth defects or other reproductive harm.
Recommend adding to an emulsion during the cool-down phase. Can be added to the water-phase if cold-processing.
Typical Usage Rate: 0.1 - 2%
Appearance: Pale Brown slightly turbid liquid with characteristic odor 
Solubility: Soluble in water