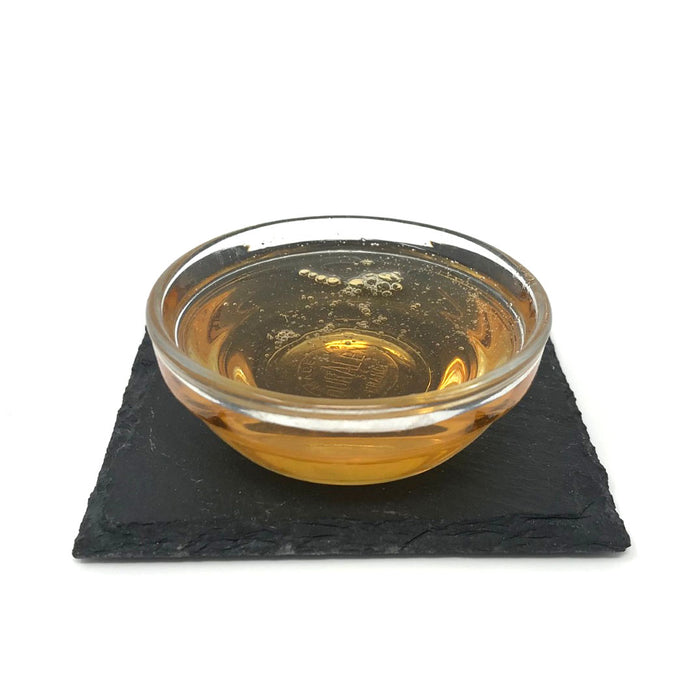 CAS#: 56-81-5, 7732-18-5, 68990-67-0, 84775-97-3

NatraSap Q™ is a 100% natural, non-gmo, and palm free, vegan oil-gelling agent. Supplied as a liquid blend, perfect for making translucent, rich balms with the texture of lanolin or petroleum jelly. NatraSap Q™ is a cold process gellant for vegetable oils, and creates rich, stable and translucent gels with balm-like textures. NatraSap Q™ is ideal for lip, body and hair care.
The viscosity of formulations made with NatraSap Q™ will vary based on what oils are used, and can often be thinned out using glycerin. Water can also be added up to 4%  to thin the product, but the appearance will be more opaque. 
NatraSap Q™ is not compatible with most surfactants especially those which contain water and are mainly lipophobic, but Cromollient SCE can be used to create a formulation that is easier to wash off.
Features:
• All natural formulations possible
• Safe, mild, food grade materials used
• No palm derived components
• Wide range of oils can be gelled but particularly suitable for vegetable oils
• Cold Process manufacturing
Uses:
• Lip balms
• Balm Cleansers
• Body Balms
• Scrubs, including salt/sugar
• Face masks
• Concentrated skin serums / creams
• Hair / Beard Balms
INCI: Glyerin, Water, Quillaja Saponaria Wood Extract, Saponaria Officinalis Leaf/Root Extract
California Prop 65 Statement: The following statement is made in order to comply with the California Safe Drinking Water and Toxic Enforcement Act of 1986. This product may contain trace amounts of ethylene oxide and 1,4-dioxane, which are known to the State of California to cause cancer, birth defects or other reproductive harm.
Unless butters or waxes are used in the formula, all materials can be used at room temperature. Weigh out the NatraSap Q™ in one beaker and oils in another - if butter or waxes are used, melt these in the oil phase first. With medium overhead stirring, incorporate the oil drop-wise into the NatraSap Q™ phase; speed of addition can be increased after 10% of the oil has been added.
NatraSap Q™ is compatible with most actives including acidic and alkaline substances (pH 3-10). Small amounts of water (up to 4%) can be added to give a creamy, serum-like texture.
Usage Levels: 15-20%
Appearance: Amber-Brown Liquid
Odor: Characteristic
pH as supplied: 4 - 6.5
Specific Gravity: 1.01 - 1.5 g/cm³
Storage: Keep in a cool, dry, well ventilated area. Keep containers tightly closed.