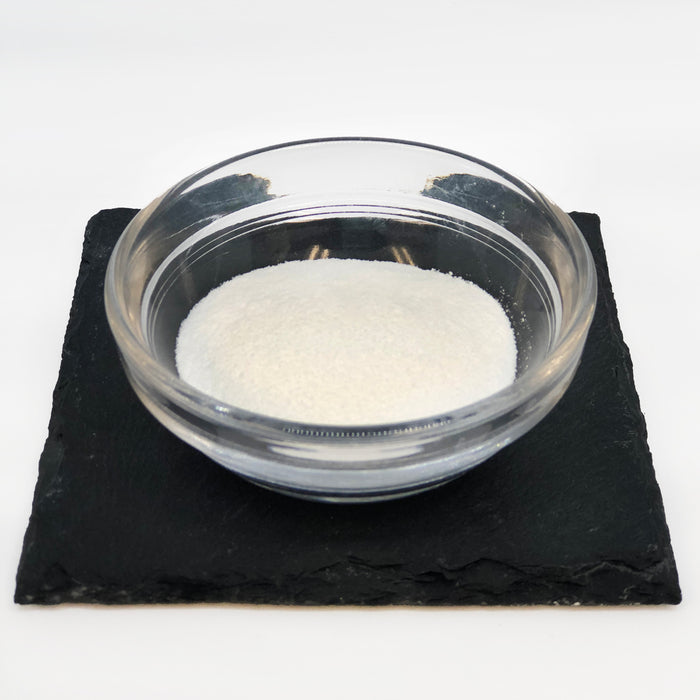 Sodium Dehydroacetate - SDHA
CAS#: 4418-26-2
Sodium Dehydroacetate is the sodium salt of Dehydroacetic acid.  It is a paraben and formaldehyde-free preservative used in cosmetics and personal care products due to its antimicrobial and antifungal properties.  It functions primarily by prohibiting the growth of bacteria and fungus, although it may not necessarily kill already developed microbes.  Thus, careful attention should be paid to good production hygiene, as well as the use of raw materials with low microorganism levels, as these are vital prerequisites for the production of well preserved products.

In the USA, Sodium Dehydroacetate has been reviewed by the Cosmetic Ingredient Review (CIR) Expert Panel and is considered safe as a cosmetic ingredient in its present practices of use and concentration. In the EU, it is restricted in workplace exposure to low doses, and its use around the mouth or lips is also restricted.
INCI: Sodium Dehydroacetate

California Prop 65 Statement: The following statement is made in order to comply with the California Safe Drinking Water and Toxic Enforcement Act of 1986. This product is not known to the State of California to cause cancer, birth defects or other reproductive harm.
Sodium Dehydroacetate is water soluble and can be used in a wide variety of personal care products including aqueous systems and emulsions. It can be added directly to the formulation at any time during the manufacturing process between pH range of 2-6.5 in leave on and rinse off applications

Recommended use levels: 0.03 - 0.5%.
Appearance: White to near-white crystalline powder
Solubility:  Water soluble
Optimal pH range: pH 3.0 - 9.0
Storage: Keep container tightly closed under cool and light-proof conditions.
Shelf Life:  Two years, properly stored.
Country of Origin: China

Try out these formulations using this product: