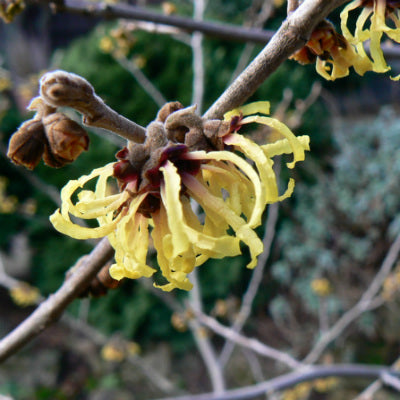 CAS #84696-19-5
Our Witch Hazel Hydrosol (aka Witch Hazel Distillate) is a product of the steam distillation of Witch Hazel leaves and stems.  It has a delicate herbaceous fragrance with subtle floral and fruity notes. Witch Hazel Hydrosol contains between 5% to 12% tannins, flavonoids, and catechins, to act as anti-inflammatories, anti-oxidants, astringents. Hamamelitannin and hamamelose are strong anti-inflammatories and astringents, while proanthocynanins are potent anti-oxidants up to 20 times stronger than Vitamin C and 50 times more powerful than Vitamin E. Gallic acid, a flavonoid, is a good wound healer as well as anti-inflammatory and anti-oxidant.
For all skin types, the proanthocyanins stabilize collagen and elastin and work as very good anti-oxidants, while the other constituents are anti-inflammatory. It can be used in lotions, gels, and other treatments for cellulite or varicose veins to act as a venous constrictor that reduces tissue swelling while offering a cooling sensation. It can act to reduce swelling in eye care products, such as gels.

For oily hair and skin types, it's an excellent inclusion at up to 20% in cleansers, toners, gels, and moisturizers to act as an astringent and anti-inflammatory that reduces redness.

Traditional uses include treatment of burns, hemorrhoids, eye irritation, bruises, and redness as well as deodorants and after shave products.
Key Benefits
Acts as a potent anti-oxidant
Very effective anti-inflammatory and astringent
Acts as a venous constrictor
Stabilizes collagen and elastin
Offers a cooling sensation
Reduces swelling
Witch Hazel Hydrosol is preserved with Leucidal Liquid, a mild and natural preservative. It is for external use only.
INCI: Hamamelis Virginiana (Witch Hazel) Distillate
California Prop 65 Statement: The following statement is made in order to comply with the California Safe Drinking Water and Toxic Enforcement Act of 1986. This product is not known to the State of California to cause cancer, birth defects or other reproductive harm.

Usage Rate: Can be used up to 100%
Parts Distilled: Flowers & stems
Extraction Method: Steam Distilled
Appearance: Clear, water-like liquid
Solubility: Soluble in water
pH as Supplied: 2.5- 5.0
Preservative: Leucidal Liquid SF (2%)
Storage: Room temperature. Protect from microbial contamination.
Try Out These Formulations using this Ingredient: