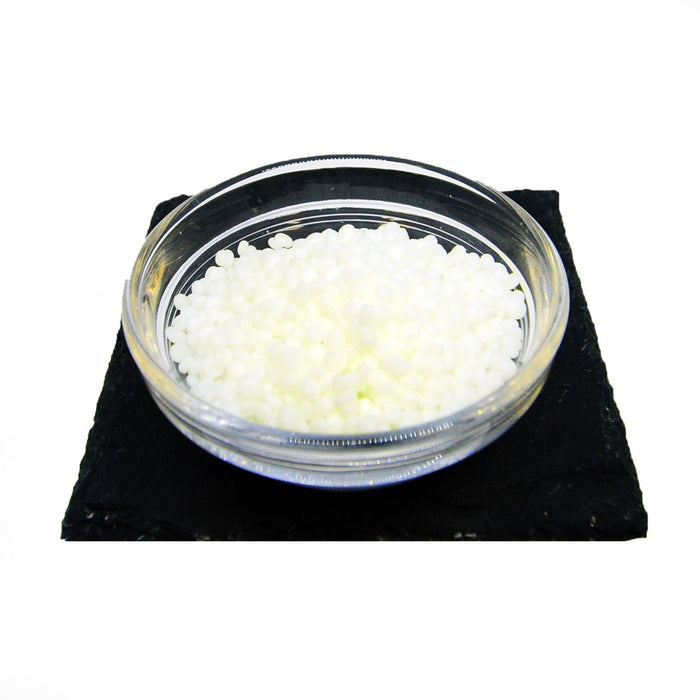 CAS#: 9005-67-8 
Emulsifying Wax NF is a nonionic self-emulsifying wax created to meet the standard for self emulsifying waxes monographed in the National Formulary.  As such, it can be listed in your ingredient listing as Emulsifying Wax NF.  It is mild, provides excellent stability, and is very easy to use. It can be used to make thick or thin emulsions, depending upon the concentration used.
Whenever a switch is made from one brand of Emulsifying Wax NF to another, it is important to conduct tests to determine if there will be changes to your formula that might require an adjustment of the percentages used.  Our tests have indicated Lotioncrafter Emulsifying Wax NF may produce a slightly thicker product than the equivalent percentage of Polawax Emulsifying Wax NF.
INCI:  Cetearyl Alcohol (and) Polysorbate 60 or Emulsifying Wax NF
California Prop 65 Statement: This product may contain 1,4-Dioxane (< 10ppm), Ethylene Oxide (< 2 ppm), which are known to the State of California to cause cancer, birth defects or other reproductive harm.

Recommended Use Rate: Recommended to add at a rate of approx. 25% of your oil phase plus 1%- for example, if your formulation has 24% oils (not including emulsifying wax), then you want to add 6% +1% = 7% emulsifying wax to your oil phase. The usage rates are typically about 3-5% by mass for lotions and 5-10% for creams.
Approximate HLB: 14.9
Country of Origin: United States

Try Out these Formulations Using This Ingredient: