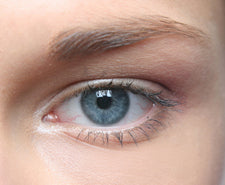 Eyeseryl® is a tetrapeptide with anti-edema properties with proven efficacy in reducing puffy under eyebags in as little as 15 days.  It can be incorporated in cosmetic formulations such as gels, serums, and emulsions where a reduction of puffiness under the eyes is desired.
Studies were performed with Eyeseryl® at a very low concentration (1%) in order to define a minimum concentration for which an effect could be measured. Both eyebag volume and dark circles were moderately, but significantly reduced.  Up to 10% of the solution can be incorporated into formulations to obtain significant eyebag-reducing activity.
INCI:  Water (and) Butylene Glycol (and) Acetyl Tetrapeptide-5
Important Note:  Eyeseryl® is a registered trademark of Lipotec and it cannot be referenced in your marketing literature without a signed Trademark Agreement with Lipotec.

This product should be added to a formulation at the recommended usage rate.
Disclaimer
Statements contained herein have not been evaluated by the Food and Drug Administration. This product is not intended to diagnose, treat and cure or prevent disease. Always consult with your professional skin care provider.
California Prop 65 Statement: The following statement is made in order to comply with the California Safe Drinking Water and Toxic Enforcement Act of 1986. This product is not known to the State of California to cause cancer, birth defects or other reproductive harm.
To request technical documentation, please contact Lotioncrafter at support@lotioncrafter.com
Eyeseryl® Solution B can be incorporated at the final stage of the manufacturing process, provided the temperature is below 40°C (104°F).
Recommended Usage Rate: 1 - 10%
Active ingredient content: 0.1% Acetyl Tetrapeptide-5 (1 g/L)
Appearance: Transparent solution
Manufacturer: Lipotec
Solubility: Water Soluble
pH: 5.3 - 6.3
Preservative: Butylene Glycol (42-58%)
Country of Origin: Spain
Storage: Eyeseryl® Solution B should be stored in the original sealed containers protected from light in a clean, cool and dark place. Refrigeration is not necessary. In order to avoid secondary microbial contamination after opening, containers should be handled with special care. If stored under the recommended conditions, Eyeseryl® Solution B remains stable for at least two years.