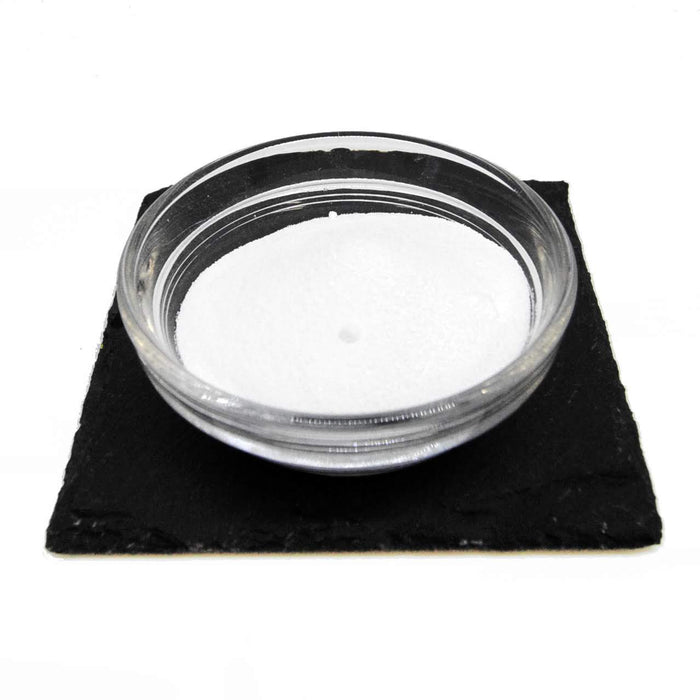 Hyaluronic Acid ULMW Less Than 6,000 Daltons
CAS No. 9067-32-7
HA ULMW is micronized and now has a molecular weight averaging between 2800 to 4300 Daltons
Our Hyaluronic Acid is made by the bacterial fermentation of plant matter (generally using a ferment culture which may include wheat peptones, and yeast, as well as glucose derived from corn).  The Hyaluronic Acid will not contain any plant-derived DNA. It is considered vegan and non-GMO.
The fermentation medium ingredients, including wheat peptone and glucose are exhausted during the fermentation process. Afterwards these ingredients are completely removed through a purifying and refining process. Therefore, this product is considered to be Gluten-Free.
Our Hyaluronic Acid ULMW (Ultra Low Molecular Weight) has been upgraded to an ultrapure hyaluronic acid (as tested by HPLC). Degraded by hyalurondase, in a patented process, high molecular weight hyaluronic acid is enzimatically snipped to produce our exclusive Ultra Low Molecular Weight (ULMW) Hyaluronic Acid of less than 6,000 Daltons. Our product is micronized and now has a molecular weight averaging between 2800 to 4300 Daltons! This very, very low molecular weight reduces its viscosity in water, but improves its ability to penetrate the upper layers of the epidermis.
Hyaluronic Acid (HA) is a polysaccharide and a compound that occurs naturally in every tissue of the body, with the highest concentrations occurring in tissues such as skin, cartilage and eyes. Providing protection to cell structures, HA is the natural gel between skin cells that serves as a water reservoir for the cells. As we age, skin loses hyaluronic acid and the ability to hold sufficient water in this reservoir. Feeding new hyaluronic acid to skin may help hydrate skin's inter-cellular reservoir, raising skin's moisture level, and smoothing down age lines.
Topically, Hyaluronic Acid has water storing properties, making it an ideal swelling agent and lubricant, enabling its incorporation into cosmetics leading to a perceptible and visible improvement of skin condition. In use, it forms a thin transparent visco-elastic surface film that helps to preserve the characteristics of youthful and healthy skin: suppleness, elasticity and tone.
1 gram of Hyaluronic Acid Powder will make 100 grams (3.53 ounces) of a 1% solution.  See the Formulary for the simple formula to make this solution.
Unlike regular Hyaluronic Acid, Hyaluronic Acid ULMW will not form a viscous gel in water. If you want a viscous gel, you need to use our regular Hyaluronic Acid HMW 1.0 - 1.5 Million Daltons.
 
INCI: Sodium Hyaluronate
Disclaimer 
Statements contained herein have not been evaluated by the Food and Drug Administration. This product is not intended to diagnose, treat and cure or prevent disease. Always consult with your professional skin care provider.  This is a cosmetic raw material and is package for external use only.  It is not intended for internal consumption.
California Prop 65 Statement: The following statement is made in order to comply with the California Safe Drinking Water and Toxic Enforcement Act of 1986. This product may contain trace heavy metals (Pb < 3.0ppm, As <2.0ppm, Hg <0.1ppm and/or Cd <1.0ppm), which are known to the State of California to cause cancer, birth defects or other reproductive harm. 
Hyaluronic Acid ULMW has a tendency to clump when added to water. It can be pre-mixed with glycerin prior to adding to water -- this will prevent agglomeration and create a smooth mixture.
You can also simply add it to your distilled water,  cover it and give it some time to hydrate, then mix well.  Depending on the amount used, this make take 15 minutes to an hour or more.

Unlike Hyaluronic Acid HMW or Hyaluronic Acid LMW, Hyaluronic Acid ULMW will not form a viscous gel. If you want a viscous gel, consider combining both types in your formulation.
Recommended Usage Rate: 0.01-1%
Appearance: White to off-white powder
Source: Biotechnology (bacterial fermentation), enzymatic degradation
Solubility: Soluble in water