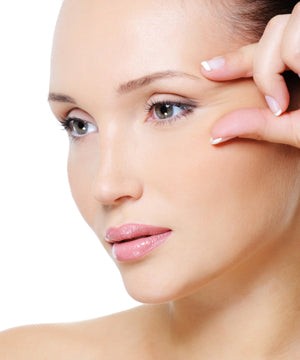 Inyline™ Solution, created by Lipotec, brings a novel approach to the cosmetic treatment of expression wrinkles.
There are two main strategies to minimize muscle contraction:
PRE-SYNAPTIC strategy, which involves different mechanisms that restrain or inhibit the release of the neurotransmitter (acetylcholine) from the motor neuron. The most known example of this is Botulinum Toxin, which inhibits ACh release into the synapse from the vesicles in such a dramatic way that it paralyses the muscle.  Examples of well-known peptide products that utilize this method of action include Argireline, SNAP-8 and SNAP-7 by Lipotec. These are safer, cheaper and milder alternatives to Botulinum Toxin.
POST-SYNAPTIC strategy, which avoids or diminishes the ligand (ACh) – receptor (AChR) binding responsible for the formation of the action potential. In this strategy, although the neurotransmitter is released into the synapse, the post-synaptic apparatus does not respond to it.
Inyline™ Solution targets this second strategy by blocking the agrin binding site in MuSK and its mechanism of action causing modulation of muscle contraction leading to muscle relaxation. From a cosmetic point of view, in the treatment of expression wrinkles, its pathway is critical in the contraction process and therefore its blockage results in muscle relaxation, with the skin surface appearing smoother and line depth decreasing.
Active Ingredient Content: 
Acetyl Hexapeptide-30
Arginine
INCI: Water (and) Acetyl Hexapeptide-30 (and) Arginine (and) Caprylyl Glycol
This product should be added to a formulation at the recommended usage rate.
Important Note:  Inyline™ is a trademark of Lipotec and it cannot be referenced in your marketing literature without a signed Trademark Agreement with Lipotec. 
Disclaimer 
Statements contained herein have not been evaluated by the Food and Drug Administration. This product is not intended to diagnose, treat and cure or prevent disease. Always consult with your professional skin care provider.
California Prop 65 Statement: The following statement is made in order to comply with the California Safe Drinking Water and Toxic Enforcement Act of 1986. This product is not known to the State of California to cause cancer, birth defects or other reproductive harm.
To request technical documentation, please contact Lotioncrafter at support@lotioncrafter.com
Inyline™ Solution

can be incorporated at the final stage of the manufacturing process, provided the temperature is below 40°C (104°F). In cold-prepared emulsions,

Inyline™ Solution

can be incorporated in the aqueous phase.
The pH of final cosmetic formulations should range from 5.5 to 8.0.
Recommended Usage Rate: 5%
Appearance: Off white to amber liquid suspension
Manufacturer: Lipotec
pH as supplied: 7.0 - 8.5
Solubility: Water soluble
Raw Material preserved with: Caprylyl Glycol
Country of Origin: Spain
Storage: Keep in a cool, dark and clean place.  If stored as recommended, Inyline Solution™ remains stable for at least 18 months.