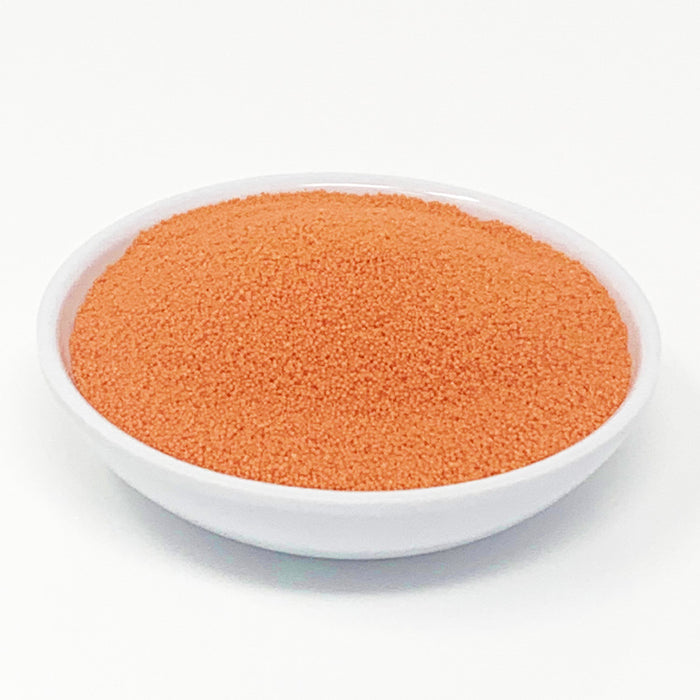 Jojoba Beads - Sweet Papaya
CAS No. 61789-91-1
Our Sweet Papaya Jojoba Beads are superb mechanical exfoliants made from Jojoba wax esters.  Their spherical shape provides safe but aggressive exfoliation that will not leave micro-lacerations on the skin like pumice or nutshell.  Jojoba Beads are 100% biodegradable and made from renewable resources.  Color is derived from oxides, cosmetic grade pigments and colorants.
Jojoba Beads are Kosher, Vegan, and non-GMO.
Applications
Bath & Body Gels
Body Scrubs & Polishes
INCI: Jojoba Esters, Iron Oxide Yellow, Red 30

California Prop 65 Statement: The following statement is made in order to comply with the California Safe Drinking Water and Toxic Enforcement Act of 1986. This product is not known to the State of California to cause cancer, birth defects or other reproductive harm.
Jojoba Beads will melt in high heat and should be added when formulations are well below their melt point. 
They may tend to float to the surface of M&P soap while cooling, or those formulations lacking the viscosity to suspend them.
Some colors may be unstable in low pH solutions or when exposed to concentrated chemicals such as acids, alkali, and surfactants.  We strongly recommend bench testing for color stablity with your formula.

Recommended Usage Rate: 1-15%
Appearance: Free flowing micro spheres
Size: 28/40
Melt Point: 154°-161°F (68°-72°C)
Odor: Odorless
Solubility: Insoluble in water
Shelf Life:  2 years