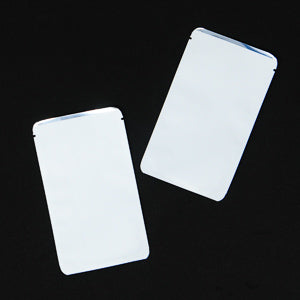 Pouch or Sachet for Samples, Large
A perfect little vehicle for larger product samples!
This white Mylar Pouch  or Sachet is 3" x 5", making it perfect for shampoos, conditioners or other products that need a large sample size.  Just fill with 1 - 2 ounces of product and seal the top. 
We use our 60ml syringe to fill these -- it's easy to gauge exactly how much you're adding to each one, and the pointed tip inserts deep into the pouch to keep the edges clean and dry. 
To seal, we like using our 4" Impulse Heat Sealer, but they will seal just as well with a hot, dry iron or a flat iron used for straightening hair.  When sealing, be sure to keep the liquid contents in the bottom of the pouch while you seal the edge to ensure the best seal. The cleanest edge was achieved with the impulse sealer.
You can write on these with a marker or pen or apply a label and they're ready to go!
Size: 3" x 5"
Capacity: 30 - 55ml (about 1 - 2 oz)