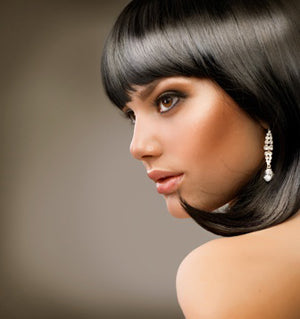 CAS#: 56-81-5
Tetrapeptide-30 Solution is a new peptide developed to balance skin tone. There are various mechanisms to brighten skin tone, including reducing or inhibiting tyrosinase activity, blocking melanin transfer into keratinocytes, and inhibition of melanocyte activation.  It is theorized that Tetrapeptide-30 Solution works by reducing the amount of tyrosinase and inhibiting melanocyte activation.
In vivo skin lightening studies have shown Tetrapeptide-30 Solution to notably reduce yellow skin tone starting at 4 weeks and fading age spots after 8 weeks. It has been shown to significantly improve the overall appearance after 2 weeks and the evenness of skin tone after 4 weeks.  Skin lesion were significantly reduced after 4 weeks of use.  According to the manufacturer, its use with Sodium Ascorbyl Phosphate, a Vitamin C derivative, has been shown to improve its performance significantly. All studies were performed at a usage rate of the peptide equivalent to 2.5% Tetrapeptide-30 Solution in the test formulation.

Applications
Skin lightening preparation (e.g. hand creams)
Anti-aging products with correction of age spots and pigmentation
Anti-aging products for even skin tone
Ethnic skin care
Décolletté preparations
Benefits
Visibly diminishes hyperchromatic spots
Improves evenness of skin tone
Reduces lesions and melasma on ethnic skin
Active on all kinds of skin types
Provides significant anti-inflammatory effect
Skin-friendly
Safely inhibits the pigmentation process
INCI: Tetrapeptide-30, Glycerin, Water
Do not directly apply onto your skin. This product should be added to a formulation at the recommended usage rate.
Disclaimer 
Statements contained herein have not been evaluated by the Food and Drug Administration. This product is not intended to diagnose, treat and cure or prevent disease. Always consult with your professional skin care provider.
California Prop 65 Statement: The following statement is made in order to comply with the California Safe Drinking Water and Toxic Enforcement Act of 1986. This product is not known to the State of California to cause cancer, birth defects or other reproductive harm.
Preparation of O/W emulsion (cream or lotion): Tetrapeptide-30 Solution can either be added during the cooling process at temperatures below 40°C (104°F) or directly to the water phase of the emulsion in cold-process formulations. Then the emulsion is prepared as usual. 
Preparation of  W/O emulsion (cream or lotion):  Tetrapeptide-30 Solution can either be added prior to the homogenization at temperatures below 30°C (86°F) or directly to the water phase in cold-process formulations. Then the W/O-emulsion is prepared as usual.  
Recommended Usage Rate: 0.5-5%, 
Appearance: Colorless clear viscous liquid
Peptide Content: 1600 ppm
Country of Origin: Germany
Long Term Storage: Recommended at 39° - 46°F (4° - 8°C)