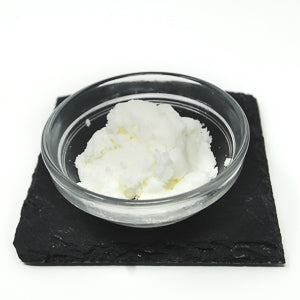 Like our Shea Butter Natural, this is an emollient butter from the nut of the African Karite tree, organically grown, expeller extracted, heated and filtered through diatomaceous earth in a chemical free process that leaves the shea butter deodorized, white in color and somewhat harder than our Shea Butter Natural. Use in applications where a white product with no odor is needed. Especially suited to topical ointments, creams and lotions, and color cosmetics.

INCI: Butyrospermum Parkii (Shea Butter)
California Prop 65 Statement: The following statement is made in order to comply with the California Safe Drinking Water and Toxic Enforcement Act of 1986. This product is not known to the State of California to cause cancer, birth defects or other reproductive harm.
Recommended Usage Rate: 1 - 100%
Appearance: Semi-soft to hard solid, white, with little to no odor
Required HLB: 7
SAP Value NaOH: 0.121 KOH: 0.178
Country of Origin: Italy
Try Out These Formulations Using This Ingredient:
Divine Decadence Massage Butter